Researchers from the University of Tokyo have unveiled a new method combining 2D printing, origami, and chemistry to achieve rapid 3D object fabrication without generating any material waste.
Known as 4D printing, this method introduces a distinct 3D manufacturing approach, with the potential to overcome limitations and open intriguing prospects for diverse industries. Unlike conventional layer-by-layer 3D printing techniques that lead to extended production times and material waste, the researchers drew inspiration from 4D printing. Here, materials with unique properties self-fold into complex 3D shapes under specific conditions, leveraging time as a crucial aspect in the transformation.
"Our biggest challenge was refining the options for hardware and materials, which took over a year to narrow it down to the final choices," said Koya Narumi, Project Assistant Professor, Department of Electrical Engineering and Information Systems at the University of Tokyo. "But all the trial and error was worth it; compared to previous research around this same basic idea, we've improved the output resolution by 1,200 times, meaning the designs we can create are not just novelties, but can be used for real applications. In the future, we may explore functional materials, such as conductive or magnetic inks, that could allow for machines and other functional devices."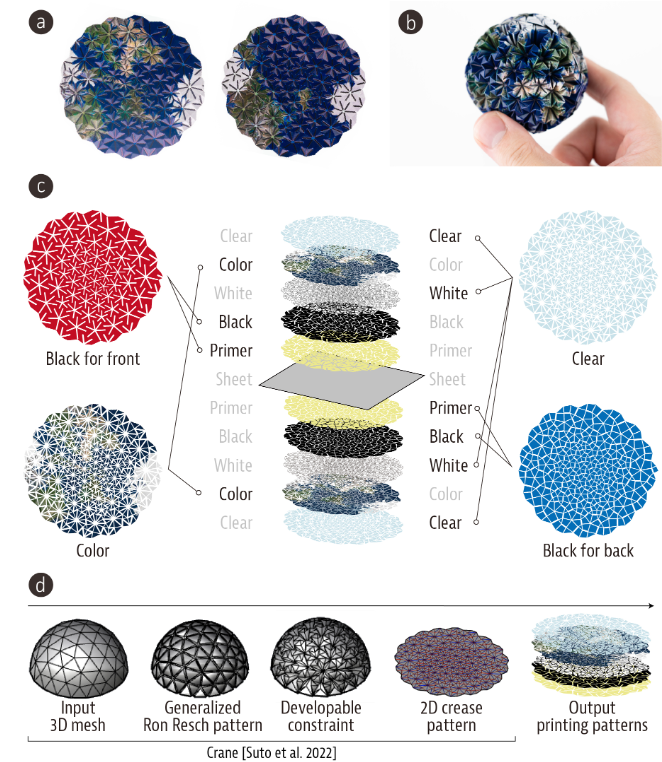 Although the printed origami sheets are essentially flat, they combine many layers of different inks atop and below the central heat-shrink sheet material. A primer helps inks stick to the sheet, even when wet. The black ink is what resists the shrinking to allow folds to take place. A white layer provides a blank canvas for a color layer. And a final clear layer protects all of those below. 
A new method for rapid and waste-free fabrication
At the core of the technique lies a specialized inkjet printer engineered to handle UV-reactive materials. Although these printers may entail a higher cost, they are readily accessible in maker communities and shared workshops. The printer applies a 2D origami design with precision to both sides of a heat-shrinking plastic sheet. Additionally, the ink used in the printing process remains unaffected during subsequent shrinking, ensuring it retains its flexibility even after drying. By strategically incorporating gaps between sections of ink on either side, designers gain precise control over the folding direction of the sheet.
The self-folding process is triggered by subjecting the flat sheet to heat using hot water. As a result of this heat exposure, the base sheet undergoes shrinkage. During this process, the ink, which exhibits resistance to shrinking, plays a pivotal role, leading the material to spontaneously fold into a complex origami-like structure.
"My team and I discovered how to use accessible tools and materials to create self-folding 4D objects,"
added Narumi. "Essentially, we're creating flat sheets with origami patterns on them, and these patterns can be complex, taking even a skilled origami artist hours to form. But thanks to our special process, you can pour hot water over these flat sheets and watch as they spring into complex 3D shapes in a matter of seconds."
Researchers have expressed enthusiasm for the unique technique's significant potential across various applications. Among these, the fashion industry stands to benefit, as it often grapples with material wastage, particularly in the context of bespoke designs. The capacity of the technology to transport 4D printed items while they remain flat offers an appealing resolution to tackle logistical and storage obstacles, rendering it a pragmatic option for disaster recovery conditions. Essential items like medical equipment can be printed as flat shapes and transformed into fully functional 3D objects on-site.
As stated by the researchers, the 4D printing process is currently undergoing continuous exploration and development, providing insight into a potential future where rapid and waste-free fabrication could become a reality. Researchers stated they "eagerly anticipate" its practical implementation and impact on diverse industries.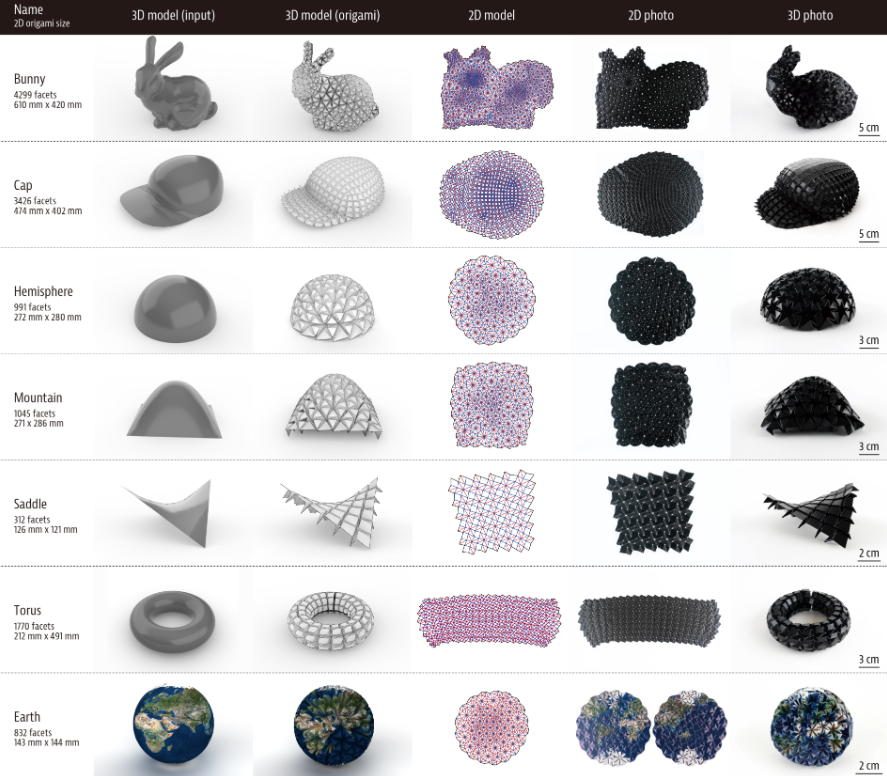 The software the team created is based on an important algorithm in the field of origami. It can decompose a 3D input object and output a 2D pattern. This process would take a human artist time, patience and a lot of trial and error. This algorithm is what first inspired the team to explore the idea of rapid 4D fabrication and is fundamental to the process.