3D printing company Sunlu has launched the Sunlu Filadryer S4 aiming to enhance the filament drying process.
According to the company, its unique feature lies in its ability to dry four spools of filament at once, rendering it an "indispensable asset" for both 3D printing enthusiasts and professionals. Sunlu emphasizes on the preservation of filament quality within the 3D printing sector, recognizing the detrimental effects that moisture and humidity can have on projects, leading to compromised results and equipment damage. The Filadryer S4 showcases novel features such as enhanced heating efficiency, efficient air circulation, and intelligent operation, among others. The Sunlu Filadryer S4 is currently available for backing on Kickstarter.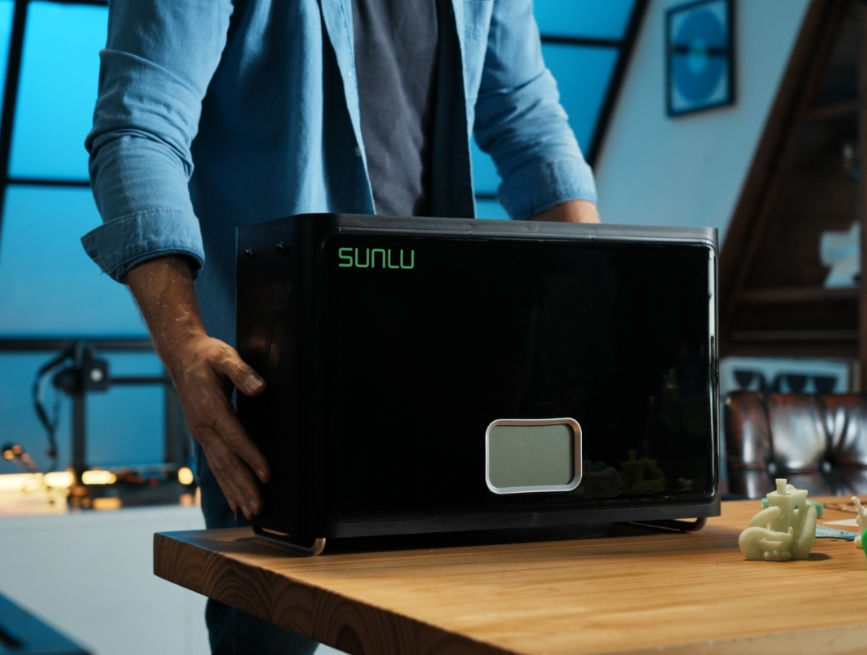 "With a relentless commitment to advancing filament drying technology, SUNLU proudly presents the SUNLU Filadryer S4. This groundbreaking product is set to redefine filament drying for 3D printing enthusiasts and professionals alike. We believe that the SUNLU Filadryer S4 will be a game-changer, elevating the quality of 3D printing projects," says Sunlu.
Sunlu says its initial offering, the Sunlu S1, introduced the concept of a filament dry box in 2019, followed by the S2 in 2021, both of which received significant recognition. This progression deemed Sunlu as a leading manufacturer in the filament dryer market, "serving as a benchmark for others in the field."
FILADRYER S4 OFFERS POWERFUL HEATING AND AIR CIRCULATION
With eight air vents and a robust 350W PTC (Positive Temperature Coefficient) heater, the Filadryer S4 stands out in terms of its equipment. This setup not only guarantees efficient heating but also places safety as a top priority. As temperatures rise, the PTC heater dynamically adapts its heat output, preventing any risk of overheating and potential hazards. This feature leads to an exceptional 50% improvement in heating efficiency compared to its predecessors, ensuring a consistent and highly effective filament drying process.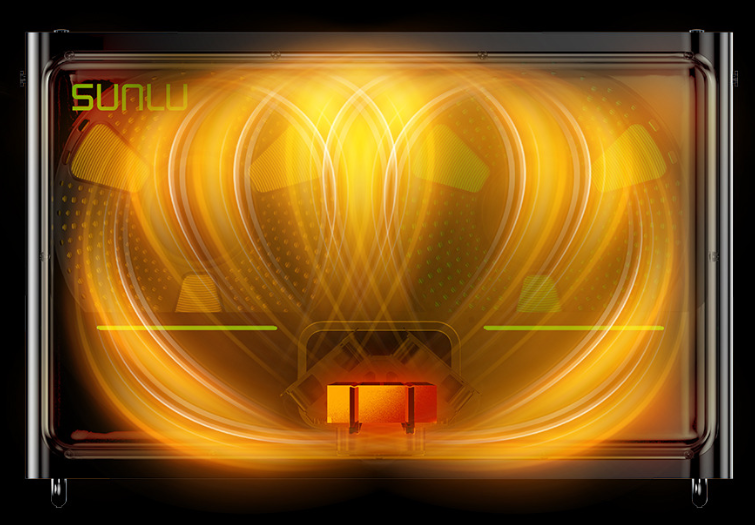 Filament drying effectiveness is closely tied to the Filadryer S4's novel air circulation capabilities. By utilizing three fans that work in tandem with the PTC heater, it ensures the even distribution of hot air throughout the filament dry box. This swift and uniform air circulation is a crucial factor in achieving the best results in filament drying.
Streamlining filament drying, the Filadryer S4 features a user-friendly touchscreen interface. Leveraging Sunlu's extensive database, which gathers insights from over 300,000 users, this device arrives with preloaded default filament drying configurations. This simplifies the selection of the right settings for different filament types, as users can effortlessly pick their filament type and commence the drying process.
Sunlu says that managing humidity stands as a major obstacle in the process of filament drying. The Filadryer S4 tackles this issue effectively through its intelligent dehumidification mode, which consistently maintains humidity levels inside the dryer box below 50%. This crucial feature plays a pivotal role in safeguarding filaments against moisture re-entry, especially on humid days, and guarantees the ongoing preservation of filament quality.