CNC machining has been widely used for a long time in many industries. Considering the wide range of possibilities a CNC machine offers, fact is, that during machining processes, different complications, problems and unnecessary costs can, and often will appear.
In order to eliminate a certain part of the costs, it is important to prepare the construction, technological and economically adequate design of the finished product and carefully plan and define the machining process itself.
What affects CNC processing costs?
Processing time, which significantly affects the cost of the same, largely depends on the complexity of the geometry of the part to be processed.
Initial costs, which include the development of CAD models and process planning, make up a large share of product prices for small batches, however these costs are fixed for either large or small batches of products so the price per unit of product can reduce by increasing the series.
Material and finishing costs are also an influential factor that concerns the total price of the product. Also, the number of finishes on product surfaces in proportion will affect the price.
What out for:
ADDING RADIUS TO INNER VERTICAL EDGE
CNC milling tools are cylindrical in shape, so when milling the pockets they create a certain radius on it's angles. The smaller the radius, the heavier is feasible and thus raises the cost of processing.
Selecting an inner radius of at least one-third of the pocket depth, is more economical than processing small radii, because achieving small radii requires the use of smaller diameter tools that can take a much smaller amount of material in one pass, what for the consequence has a greater number of passages at lower speeds.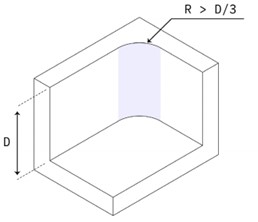 REDUCTION OF DEPTH AND THREAD LENGTHS
Processing deep holes significantly increases the price of the product. It is necessary to subtract and throw out a lot material that takes a lot of time and energy, and it is sometimes necessary to use special tools. Tools have their limitations in terms of processing depth and they usually work best when processing indentations lengths of two to three of their diameters.
Processing long-length threads, also requires special tools and takes more time. Since solid screw connections are realized in the first few thread steps, making long threads often is not necessary so the length of the one should not be more than three times the diameter of the bore.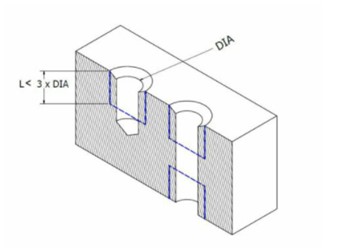 AVOIDING THIN AND HIGH WALLS
The processing is often approached with the thought that excess material increases the product price, so the material bends and cracks due to the construction of walls with an insufficient thickness which are, as such, susceptible to vibration and deformation. It is necessary to take into account the respect of certain tolerances, which in addition to the stated negative phenomena, takes time and complicates the process.
For these reasons, it is recommended to construct the walls whose thickness is not less than 0.8 mm for metals and 1.5 mm for polymeric materials.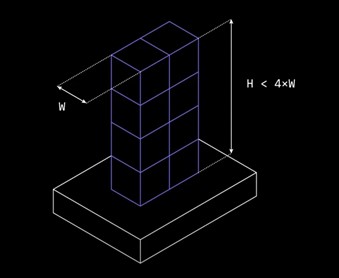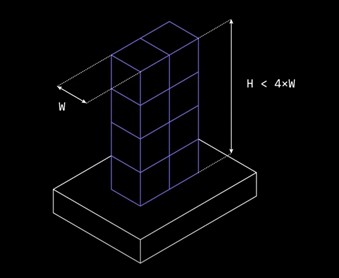 The problem of vibration occurs with small elements with a large ratio height and width, therefore such elements are very demanding to process accurately. As for the design of such parts, their height should be less than four amounts of width.
By choosing the right operations, tools and materials, unnecessary spending of resources such as material, time and money, can be prevented or at least reduced. CNC machining itself is not cheap, therefore it is desirable to implement as many measures as possible in the process, which will reduce costs.
However, the finished product must meet certain quality requirements and must be functional, so through product development and processing "cum grano salis" , it is important to carefully approach the task and reduce resource consumption where possible, in order to be able to invest in some other aspect of the product, where is perhaps more necessary.
Author: Mia Stipan, univ.bacc.ing.mech