Performance. Precision. Reliability. Affordability: These are the driving forces behind the design of our new FMG-B1224 Traveling Column High-Efficiency Profile Grinding Machine – Chevalier.
Performance, precision, reliability, affordability: These are also the standards required by the medical, automotive, mining, semiconductor, aerospace and job shop industries in order to meet current and future market needs and pave the way for factory automation in the age of 4.0 Manufacturing.
Chevalier has achieved greater precision by placing the high-waist travelling column on the same level as the spindle, creating a solid, rigid machine structure that minimises vibration, movement and displacement. Axial movements are programmable in increments of 0.001 mm (0.0001″) with little effort.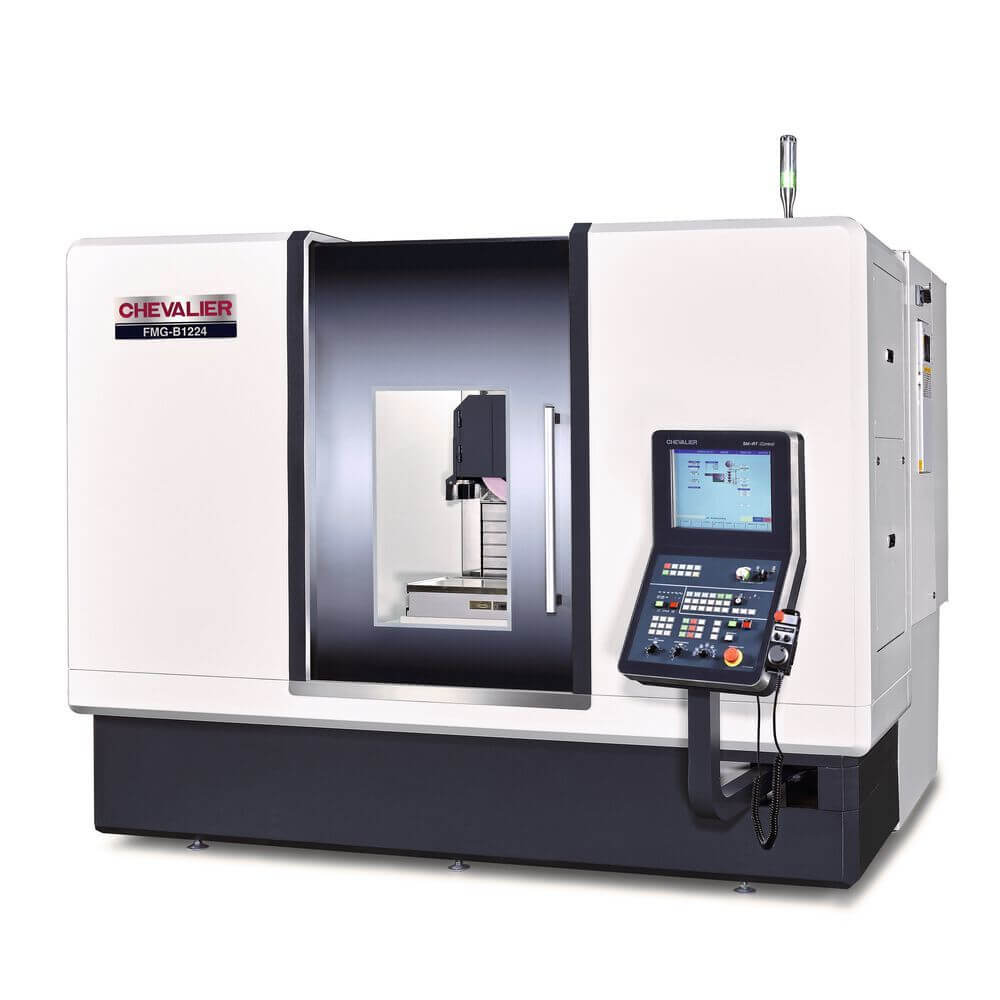 Control features
The company's grinding machines are designed to be user-friendly, with their exclusive PC-based Smart I-Control featuring conversational programming. Combined with Tasklink, it allows operators to create their own programs for generating complex grinding tasks in a single cycle — without an engineering degree.
Chevalier's R&D team used precision analysis to design a rigid machine structure that incorporates a travelling column to effectively improve stability for high grinding efficiency and reliable machining accuracy, the company explains.
The Smart I-Control's powerful computing force enhances the HMI (human-machine interface) for greater precision. Combining the Smart I-Control with data analysis from network connectivity allows managers to improve the production process and increase output.
Application
According to Chevalier, the Smart I-Control has four types of graphic conversational grinding modes. Additionally, their new Tasklink mode enables operators to complete complex grinding tasks in one cycle. The company explains that a normal dressing mode wastes time by cutting in air. Opposed to this, the Smart I-Control Dressing Mode promises to never cut air because the diamond is in constant contact with the wheel to minimise dress time, the company elaborates.
The cartridge-style spindle is suitable for heavy-duty grinding loads. It is supported by six super-precision angular contact bearings (four front pieces and two rear pieces). Runout is within 2 µm. Fully sealed lubrication ensures long life and greater precision. Air-cooling the spindle minimises temperature increase to further ensure spindle accuracy. The thermal suppression isolation interface can reduce the temperature to the lowest level, effectively inhibiting spindle expansion. Maximum spindle horsepower offers the option of 30 kW (40 HP) for high-precision or semi-heavy profile grinding.
The X/Y/Z axis is driven by an AC servomotor and a high-precision ballscrew to maximise control of the table speed and position. The FMG-B1224 is built with a massive one-piece rigid machine base with a low centre to fully support table travel.
All castings have undergone FEM analysis to optimise the mechanical design and minimise the machine's weight. The ergonomic machine structure is optimally designed to provide better grinding efficiency and accuracy.