Kyocera Corporation announced its new MEV series of efficient, multi-functional milling cutters for metal machining applications.
The new product series, which includes six inserts and 25 holders, are now available worldwide.
| | |
| --- | --- |
| Number of models | Holders: 25 / Inserts: 6 |
| Cutting diameter |  20 mm -50 mm |
| Applications | Face milling, shouldering, slotting, pocketing, ramping, helical milling |
| Recommended workpieces | Carbon steel, alloy steel, mold steel, stainless steel, heat-resistant alloy, titanium alloy, cast iron |
| Production locations | Shiga Yohkaichi Plant / Kagoshima Sendai Plant |
| Sales target | 200 million yen / year |
Main Features
High Performance: High Rigidity and Lower Cutting Forces
The web thickness of the MEV Series holder body has been increased to approximately 120% compared to conventional milling cutters by changing the insert orientation to a tangential mounting style for the first time among Kyocera's indexable end mills. In addition, the use of a triangular-shaped insert with low cutting resistance ensures both higher rigidity and lower cutting forces for greater machining precision and efficiency.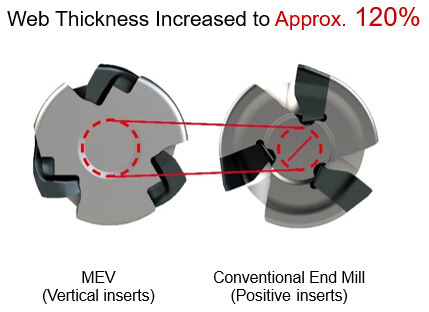 Economical: Longer Insert and Holder Life
The innovative design features larger cutting edges for increased strength. In addition, all three usable cutting edges feature Kyocera's proprietary MEGACOAT NANO coating technology with wear and adhesion resistance for increased tool life. Increasing holder rigidity and creating wider area of contact with the inserts leads to high durability.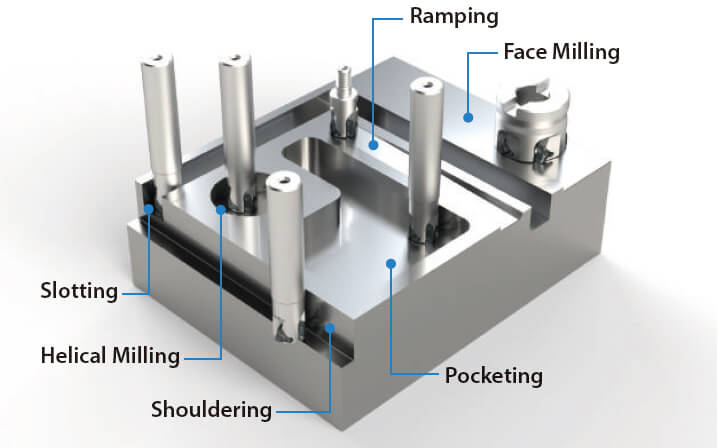 Multi-Functional: Covers a Wide Variety of Machining Applications
By optimizing the design of the chipbreakers, the MEV maintains exceptional chip evacuation. The MEV can also achieve stable machining in more difficult applications where chip re-cutting and high cutting force can be challenges, such as slotting and ramping at a depth of cut (DOC) up to 6mm.