The updates, the improvements, new models and new technologies for cutting, grinding, milling/turning, and more is a never-ending show
It may seem that CNC machine tool builders save their big announcements for big events — like IMTS or EMO in Hanover. But, the updates, the improvements, and the new models and new technologies for cutting, grinding, milling/turning, and even EDM processing of parts never really ends. Following here, a selection of new CNC machine tools introduced by major designer/builders in recent months.
Two-in-one concept
Walter Helitronic Vision Diamond 400 L, Helitronic Power Diamond 400 and Helitronic Diamond Evolution tool grinding machines, from Walter Maschinenbau GmbH , integrate both eroding and/or grinding capabilities into a single grinding machine platform. From a production standpoint, the two-in-one concept lets users completely erode tools (PCD) and completely grind tools (carbide) using the same machine to eliminate the time-consuming task of moving workpieces to a second machine.
Learn more at  www.walter-machines.com
Optimal machining for aerospace parts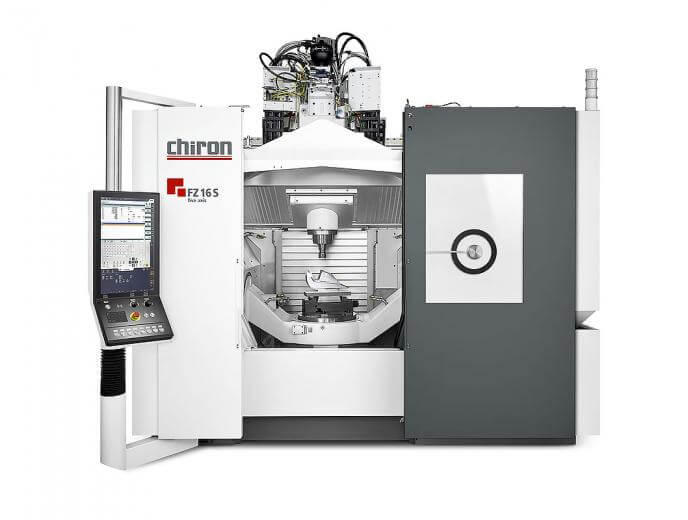 Manufacturing vanes, blisks, impellers and other critical components for engine and turbine construction calls for a machining center capable of dynamic milling with five simultaneously controlled axes. The CHIRON Group FZ 16 S with five-axis tilt rotary table, a mineral cast machine bed, and rigid gantry design delivers a high degree of stiffness, and optimal damping characteristics. High-performance motors, two Y-axis drives, as well as short spindle start-up and braking times are the basis for the machine's high speed. A-axes and C-axes equipped with direct drives deliver even greater dynamics. These machine characteristics assure precise multi-axis motion, and smooth acceleration, which are fundamental requirements for high-level aerospace manufacturing.


Learn more at www.chiron.de
New wire EDM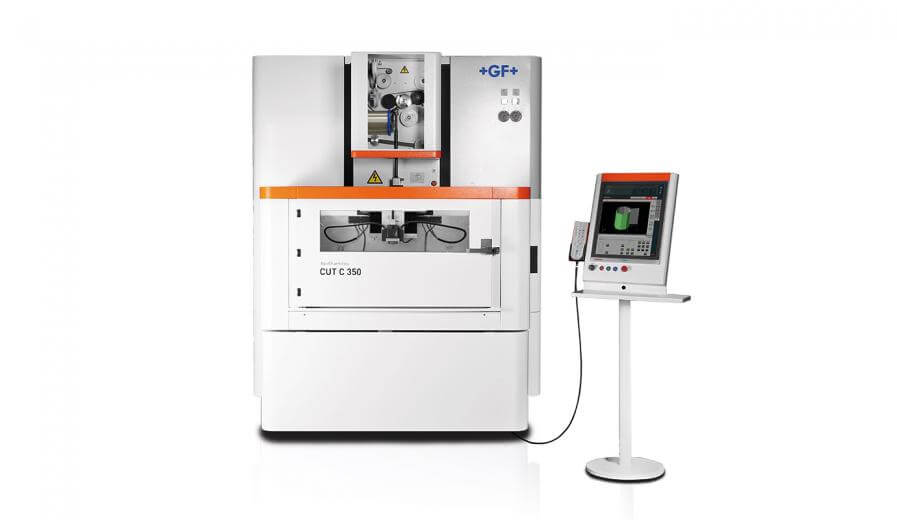 GF Machining Solutions introduced the AgieCharmilles CUT C 350 wire EDM machine, along with three other new products: the Microlution ML-10, MLTC  and the DMP Flex 350.
The AgieCharmilles CUT C 350 wire EDM machine offers optimized cutting speed and reliable accuracy, with GF Machining Solutions' quality for the lowest operating costs. With a low starting price point, the machine is cost-effective but also provides optimized cutting speed and reliable accuracy, while the equipped AC CUT HMI 2 system makes it easy to program through efficient EDM expert modules.

Learn more at www.gfms.com
High-speed milling, drilling, tapping, deburring and chamfering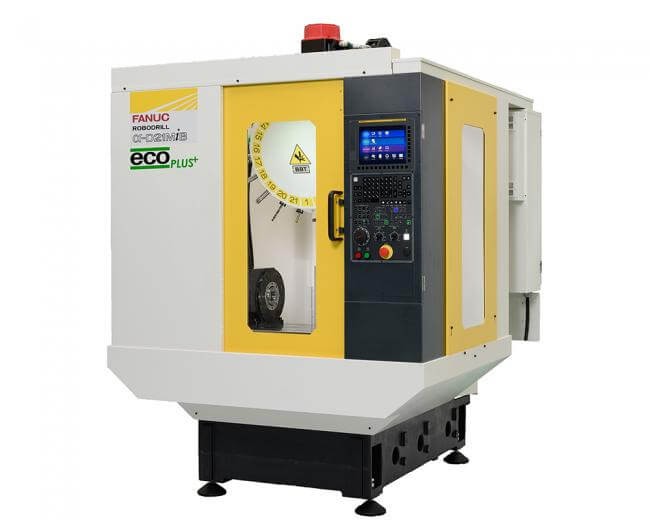 Methods Machine Tools now offers the FANUC RoboDrill ecoPLUS, with a 21-tool capacity and increased speed via an optional 24,000 rpm spindle. Two ecoPLUS models are available including one with a larger X-axis travel and table size.
FANUC RoboDrill eco/ecoPLUS high-speed machining centers offer milling, drilling, tapping, deburring, and chamfering. Speed and versatility make the machining centers ideal for off-loading bigger, slower machines as well as for performing secondary options, regardless of production volumes.

Learn more at www.methodsmachine.com
New CNC machine for gear hobbing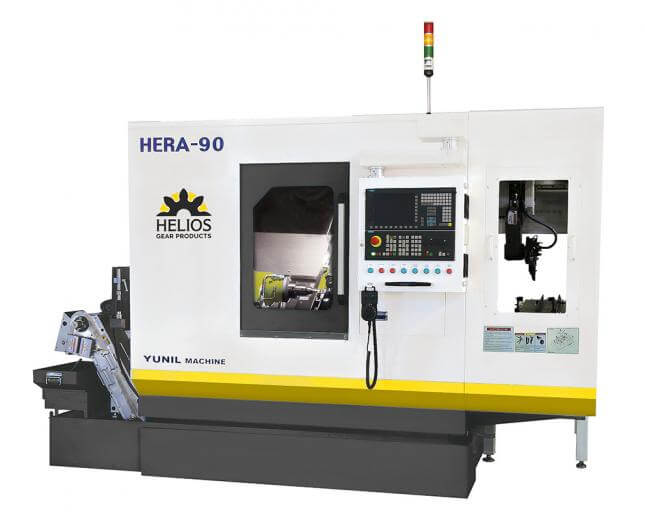 Helios Gear Products (formerly Koepfer America) is exclusively offering the Helios Hera 90 CNC gear hobbing machine from YG Tech.  It provides high-tech features such as FANUC 0i-MF control and servo motors, direct drive hob and work spindles, Heidenhain linear scale on X-axis for precise repeatable control of size, and more. The Hera 90 offers key features, such as 8.5 DP (3 mn) pitch rating, 6,000 rpm maximum hob speed, and up to 8 CNC axes. When equipped with the optional gantry loading and unloading system, the Hera 90 capably and productively hobs a variety of gear types. Workpieces up to 320 mm length can be manually loaded or 7.874 in. (200 mm) length automatically loaded. Centerline distance between cutter and work spindles moves between 0.394 in. (10 mm) and 3.937 in. (100 mm), providing the capacity for a wide range of gear sizes.

Learn  more at www.heliosgearproducts.com
Tilt-spindle five-axis HMC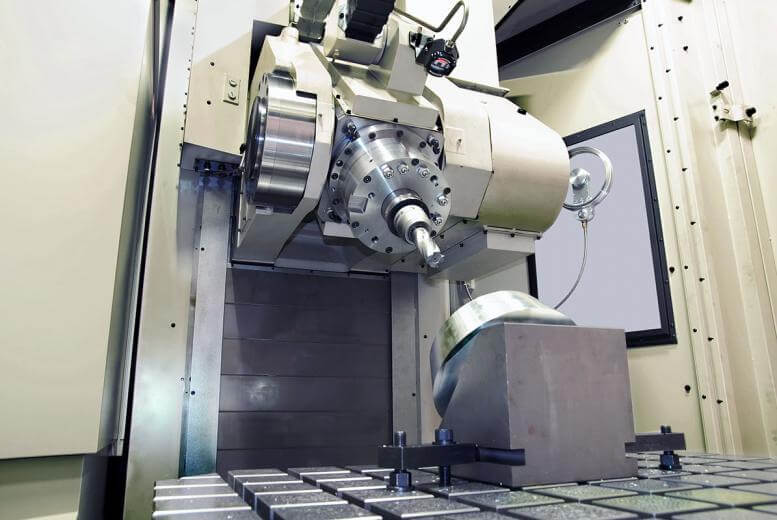 Mitsui Seiki's new HU100-TS 100 tilt-spindle five-axis HMC is built to machine large, hard-metal workpieces that are better suited for tilt-spindle processing than trunnion table operations. The fixed table and tilting head arrangement facilitates production of heavier and larger parts and can permit use of shorter, more rigid tooling. It offers high rigidity and accuracy when machining tough materials (e.g., titanium, Inconel) that are common in aerospace, power generation, and other high-value applications.
The horizontal table accommodates workpieces up to 1,900 mm (76 in.) long and 1,250 mm (50 in.) in diameter, weighing up to 2,000 kg (4,400 lbs.). X, Y and Z-axis travels are 1,300 mm (52 in.), 1,500 mm (60 in.) and 1,400mm (56 in.) respectively, with B axis rotation of 360˚ and A-axis rotation of -30˚ to +120˚. The compact 5,530 mm (221 in.) x 8,431mm (337 in.) footprint is similar to that of its four-axis equivalent.

Learn more at www.mitsuiseiki.com
Five-axis, double-column machining center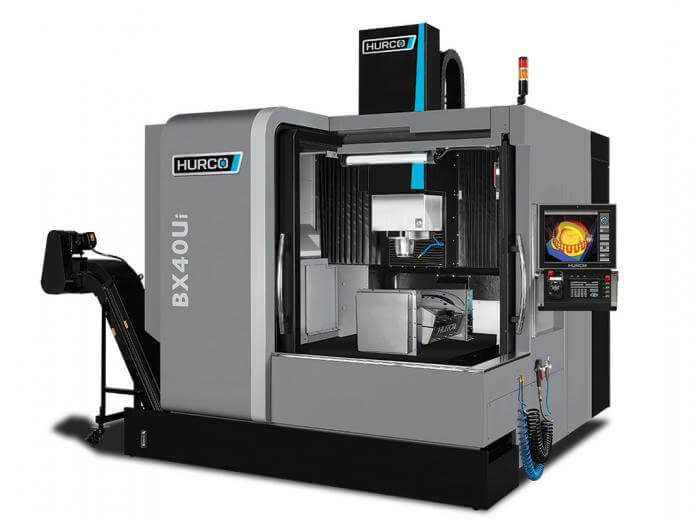 The Hurco BX40Ui five-axis CNC double-column machining center, with trunnion table mounted along the Y-axis, is the perfect combination of performance and flexibility. The ladder structure and double-column design provide extreme rigidity and outstanding support to the head casting. With an 18-k motorized spindle and oversized linear guide rollers, the BX40Ui suits range of applications. Additionally, the bridge structure is isolated from part weight and operates in a stable and predictable manner. Exceptional cutting feed rates are achieved with patented, high-speed motion technology called UltiMotion that simultaneously reduces cycle times by up to 30% or more and delivers outstanding surface finish quality.

Learn more at www.hurco.com
Single-setup machining for large parts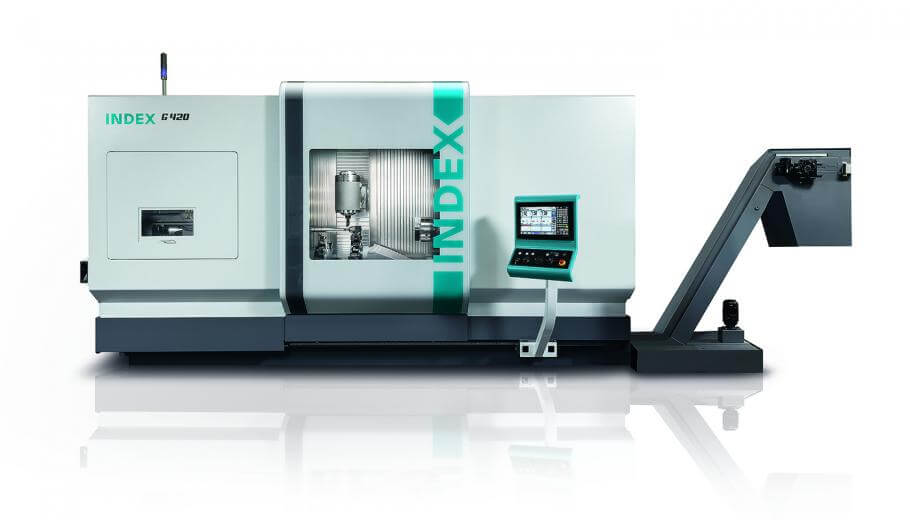 INDEX launched its G420 turn-mill center, featuring identical 3,500-rpm twin spindles with 315-mm (400 mm optional) chucks and a powerful, five-axis milling spindle that provides up to 12,000 rpm with an HSK-T63 interface, or 18,000 rpm with a Capto C6 interface. The machine's high inherent stability and dynamic response make it an exceptional choice for working with difficult-to-machine materials, providing significant value to aerospace manufacturers looking to complete large, complex parts in a single setup.
The G420's main and counter spindles each accommodate bar stock of up to Ø102 mm and can chuck parts up to Ø315 mm (Ø400 mm optional). The large work area provides space for parts up to a maximum length of 1,600 mm and incorporates an ergonomic design to optimize operator accessibility. Additionally, an optional workpiece handling system can be incorporated for loading, unloading and transferring parts of up to 20 kg and Ø120 mm.

Learn more at  www.index-traub.com
Complex parts, multi-surface processing in one setup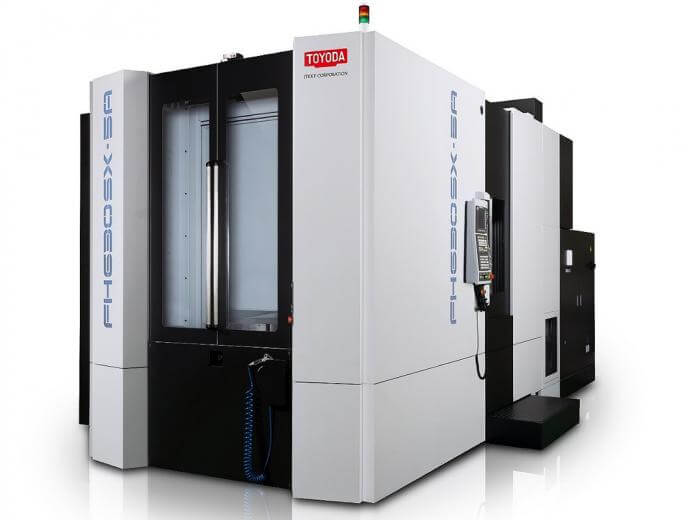 Toyoda introduced the FH630SX-i five-axis horizontal machining center that combines best-in-class performance, high torque, and simultaneous five-axis machining. Starting with a rigid spindle design, it adds a tilting swivel motion to enable efficient processing of large workpieces. For more flexibility, the machine is capable of travelling 12 in. past the pallet centerline in vertical. The FH630SX-i five-axis features spindle speed flexibility due to the interchangeable spindle cartridge supporting the special-purpose optional 8,000 RPM, 107 HP high-torque spindle, or standard 15,000 RPM, 74 HP high-speed spindle.

Learn more at www.toyoda.com
Blisk machining in one setup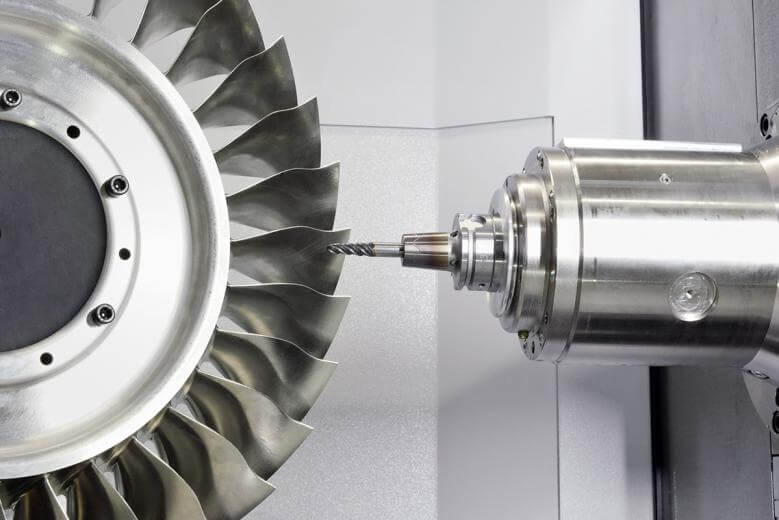 The new Starrag NB 151 universal machining center produces high-precision components like blisks and impellers entirely in a single step, using a process that is both fast and reliable. This five-axis machining center can be used for the complete machining of heavy workpieces weighing up to 300 kg ,and measuring up to 600 mm in diameter and 290 mm in length. The NB 151 is equipped with two circular axes that were developed and manufactured in-house for the sole purpose of machining blisks.

Learn more at www.starrag.com
Milling tight-tolerance blends and matches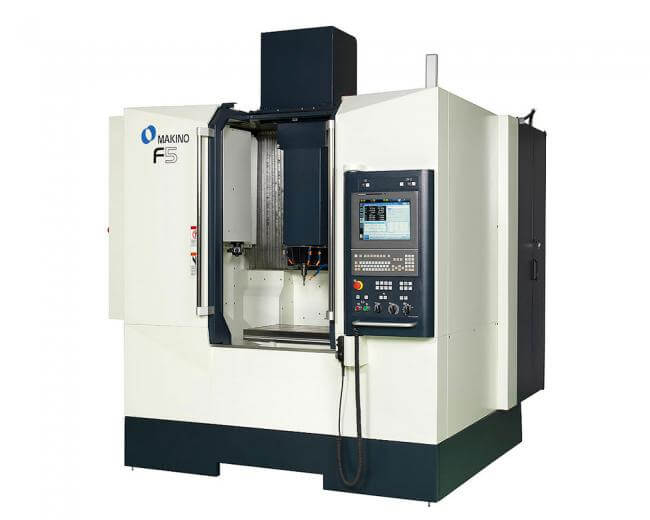 The recently introduced Makino F5 Pro 6 vertical machining center is designed for rigidity, for chatter-free cutting, and the agility and accuracy required for milling tight-tolerance blends and matches typical of complex, 3-D contoured geometry associated with die/mold and medical production.
The F5 features X, Y, and Z axis travels of 35.4 in., 19.7 in., 17.7 in. respectively, a 39.4 in. x 19.7 in. table and a maximum workpiece size of 39.4 in. long x 19.7 in. wide x 17.7 in. tall. With a table load capacity of 2,204 pounds and a 30-tool magazine provides capacity for a wide array of tooling. An optional 60-tool magazine is available to provide a larger tooling compliment – reducing tool set-up and change-over times.

Learn more at www.makino.com
Easy processing for large workpieces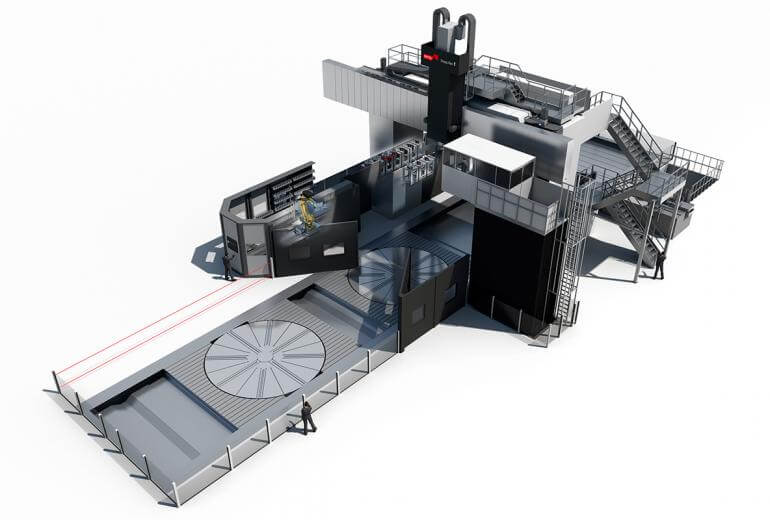 The Droop+Rein T series is a milling/turning center offering high accuracy thanks to its rigid design and hydrostatic guide concept — and extraordinary dimensions (table length: 18,000 mm; horizontal pass: 9,000 mm; vertical pass: 7,000 mm) and working area (X:19,000 mm; Y:9,000 mm; Z:3,000 mm.) The amount of space offered by this new model means that processing large workpieces in a single clamping operation is easy. There is also an option for five-axis processing, thanks to the integrated C-axis with stepless rotation and the universal fork-type milling head, featuring a B-axis that swivels ±95°. The sixth axis (W) is a 5,500-mm continuously movable crossbeam.

Learn more at www.starrag.com
Large-volume, light metal machining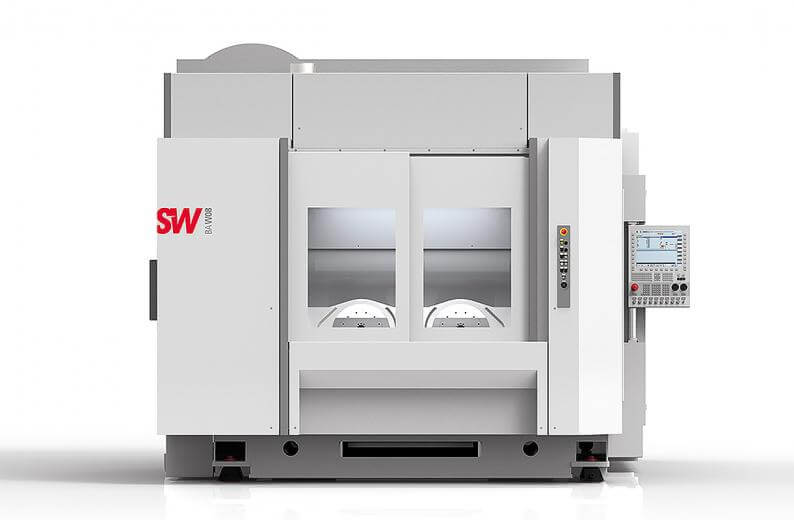 Schwäbische Werkzeugmaschinen GmbH (SW) developed a machining center specifically for machining electric auto parts: The BA W08 is designed for four- and five-axis machining of very large, light metal workpieces, such as structural parts, and can be operated with one or two spindles.
The BA W08-12 is a one-spindle, horizontal machining center for large, light metal workpieces, eg., battery housings. It features a monoblock that minimizes deflection and ensures optimal flow of force between the machining unit and the workpiece carrier. The machining center also has a weight-optimized machining unit featuring the "box-in-box" design, developed for highly dynamic operation in light metal applications. It be inserted into the monoblock at the rear. Linear and torque motors in the feed axes guarantee maximum dynamics and the shortest possible auxiliary process times, while the gantry drive of the Y-axis ensures optimal positioning accuracy, even with eccentric loading.
Learn more at www.sw-machines.de
Heavy-duty vertical machining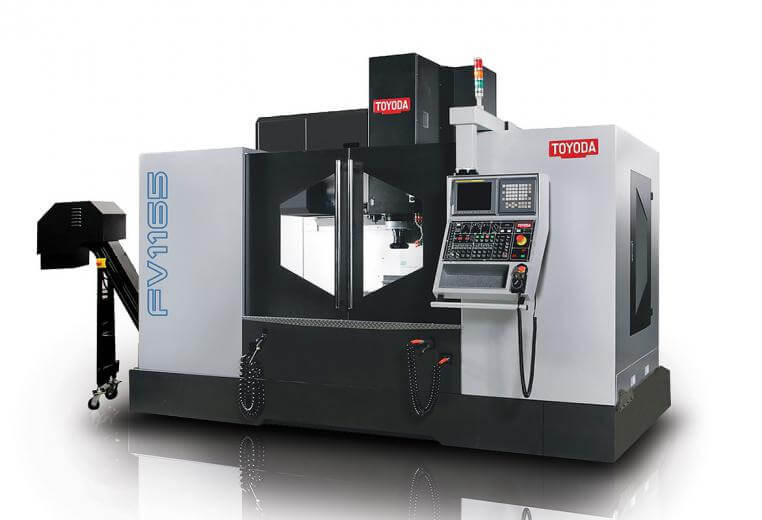 Toyoda's smart manufacturing offerings help machine shops bolster productivity and data processing capabilities, expanding manufacturing operations. The Toyoda FV1165 heavy-duty vertical machining center offers fourth-axis machining as a standard, providing shops with greater flexibility through rotary table integrations and a high-performance spindle.

Learn more at www.toyoda.com
CNC lathe performs full five-axis machining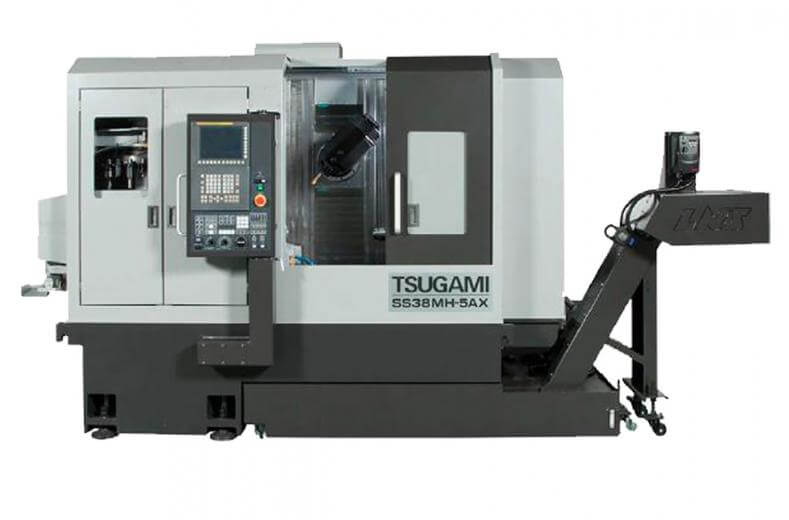 The Tsugami SS38MH-5AX is a 38-mm chucker-convertible, B-axis sliding headstock CNC lathe that performs full five-axis machining. The Tsugami SS38MH-5AX features a 40 tool magazine, 10 tools on the back tool post, and an optional 2 tools on the deep-hole drill holder as well as linear glass scales on the X1-, Y1-, Z1- and X2-axis slides.
Learn more at  http://www.tsugami.co.jp/eng/