Following the launch earlier this year of the manual Swift Klamp HSK workholding system for use on machining centres, 1st Machine Tool Accessories has introduced a new robotic loading and unloading arrangement based on the same principle.
It was demonstrated at EMO 2019 on the Kitagawa stand. 1st MTA is sole sales and service agent in the UK and Irish markets.
The automatic system, which maximises spindle uptime, uses a deeper clamping head to accommodate the low pressure (35 bar) hydraulics, and a mounting plate with dedicated adapter to suit the 3-, 4- or 5-axis vertical-spindle or horizontal-spindle machining centre.
Pneumatic detection of correct seating of the head ensures accurate machining and elimination of scrap, while air blow from the underside prevents swarf from entering the mechanism during exchange.
As with the manual Swift Klamp system, the automated variant is available in HSK-A40, HSK-A63 and HSK-A100 sizes.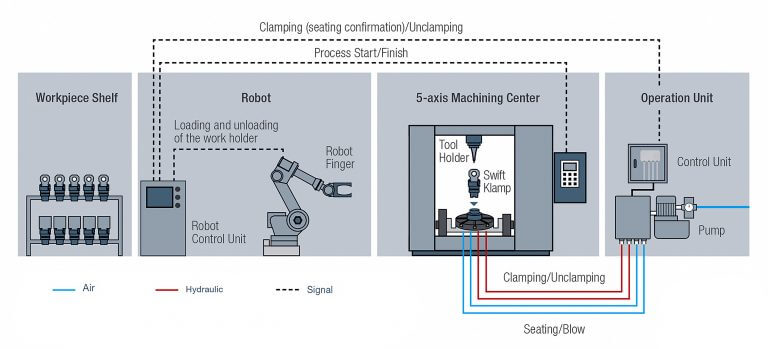 Depending on the equipment, skills and requirements a potential customer may have, a package is configured by 1st MTA that may include a workpiece stocker, a 6-axis industrial robot with gripper, the Swift Klamp workholding system with head, multiple workholders, control unit and pump, and an engineered interface to the machine tool comprising electrical control circuitry and plumbing of the hydraulic and pneumatic channels through the table as well as a tombstone if necessary.
The Swift Klamp system per se uses a rigid HSK face-and-taper interface, normally used for holding cutting tools, to provide a high precision, secure, low interference, quick-change method for clamping workpieces. It is characterised by high resistance to bending forces generated by metalcutting operations.
Sitting on top of the interface are multiple options for holding the workpiece, including a vice, flange clamps and side clamps. Alternatively, a dovetail interface with compact clamping surface allows enhanced tool access.
Billets must be pre-milled with a slot to match the holder profile using a solid carbide cutter provided specifically for the purpose. Steel or aluminium blanks in various sizes pre-machined with a dovetail can also be supplied.