A team of scientists from the Max Planck Institute for Informatics in Saarbrücken, Germany, and the University of California at Davis, have developed a novel process for 3D printing pills that can release pharmaceutical drugs at predetermined speeds.
In a recently published research paper led by Dr. Vahid Babaei from the Max Planck Institute and Prof. Julian Panetta of UC Davis, the team demonstrated how pills can be 3D printed with specific shapes to determine the speed at which they dissolve within the human body.
Geometric shapes are easier to control than alternative timed drug-delivery methods such as intravenous infusion. Thus, given the importance of controlling pharmaceutical drug levels in patients, It is claimed that this new method has significant potential within the pharmaceutical industry. Beyond pharmaceutics, the production of catalytic bodies and coarse granular fertilizers are also pointed to as potential applications.
"I am convinced that point of care, personalized medicine is around the corner, and 3D printing will play a major role," commented Dr. Babaei, Research Group Leader, Artificial Intelligence-Aided Design and Manufacturing Group, at Max Planck Institute for Informatics.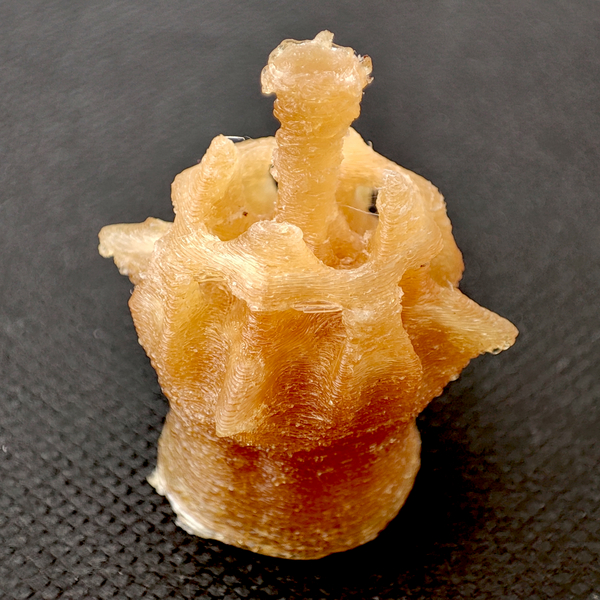 A first research for inverse design strategy
The researchers combined advanced computational methods, mathematical modeling, and FDM based 3D printing technology when testing and evaluating this new process.
The research team conducted simulations of the designs developed with topology optimization. Then the forward simulations were inverted to find a specific shape that exhibits certain dissolution properties. Practical experiments then confirmed these predictions regarding dissolution. The research team says they are the first to utilize an inverse design strategy to find the desired shape from release behavior based on topology optimization.
When conducting the experiments, the researchers first 3D printed the desired components using a Prusa i3 MK3s FDM 3D printer equipped with a 0.2 mm Kaika nozzle from Tecdia Co. AquaSys 120 from Infinite Materials Solutions, a water soluble filament typically used for support structures, was also utilized.

Once printed, the parts were placed in distilled water. A camera system was then used to measure the speed at which the pieces dissolved. While alternative, high-cost and specialist equipment is often used to measure dissolution rates, an image-based system was employed here as it was much faster and simpler for the scientists to set up.
Ultimately, the measured release curves were very close to the desired values. This validated the inverse design strategy predictions, and confirmed that specific shapes can be used to determine specific release rates for drugs.  
Whilst the research team has not yet quantified the total addressable market for this new pill production method, they have patented their work. Dr. Babaei asserts that "Our group cares deeply about putting our research into practice." Indeed, the team has already launched a spin-off project for the laser industry called Oraclase.