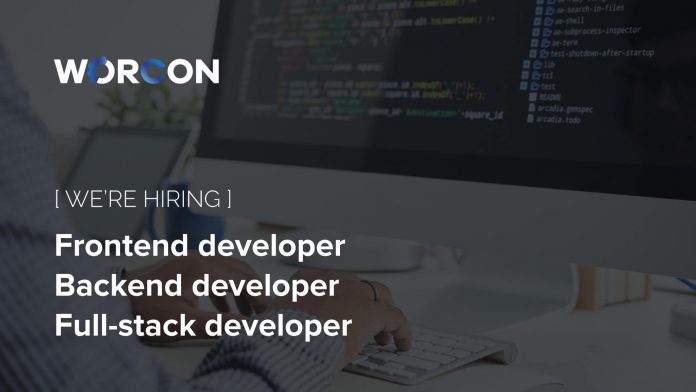 Want to be a part of the team driving digital transformation and innovation within the manufacturing industry?
Love challenges? Want to use latest technologies?
Worcon is looking for new team members in development area:
1x Frontend developer
1x Backend developer
1x Full-stack developer
FRONTEND DEVELOPER
What we need:
Excellent knowledge of modern JavaScript (ES6+) and its derivatives/supersets (TypeScript, Flow…)
Proficiency in one or more Front-end frameworks such as React, Vue or Angular, as well as their respective stack (Redux, Vuex)
Advanced knowledge of web performance optimization techniques
Advanced knowledge of task runners and bundlers (webpack, gulp)
Excellent knowledge of consuming backend API-s and RESTful services
GitHub
Understanding of key design principles
Good problem solving skills
Independent, communicative, creative person
Bonus points:
JIRA and agile development methodologies (SCRUM)
Database knowledge, MySQL, MongoDB
Basic knowledge Node.js, Python
Familiar with Docker / Kubernetes
Work with AWS
If you want to apply for this position, please send us your CV to info@wor-con.com
BACKEND DEVELOPER
What we need:
Strong JavaScript background (React, Node.js, Webpack, Babel)
Good knowledge in dealing with API services (RESTful/GraphQL)
Knowledge of object-oriented concepts / JAVA, Python, Go, Swift/Objective-C
GitHub
Experience working on backend services
Experience with microservice architectures Docker, Kubernetes
Excellent relational database skills with MySQL
Experience with NoSQL databases (i.e. MongoDB)
Experience with cloud providers – AWS
JIRA and agile development methodologies (SCRUM)
Bonus points:
SaaS experience is a plus.
Excellent development skills in Python, comfortable with C/C++.
Familiarity with machine learning libraries such as TensorFlow, PyTorch, Caffe, etc.
If you want to apply for this position, please send us your CV to info@wor-con.com
FULL-STACK DEVELOPER
What we need:
Excellent knowledge of modern JavaScript (ES6+) and its derivatives/supersets (TypeScript, Flow…)
Proficiency in one or more Front-end frameworks such as React, Vue or Angular, as well as their respective stack (Redux, Vuex)
Excellent knowledge of consuming backend API-s and RESTful services
Good knowledge in dealing with API services (RESTful/GraphQL)
Experience working on backend services
Experience with microservice architectures Docker, Kubernetes
Excellent relational database skills with MySQL
GitHub
Bonus points:
JIRA and agile development methodologies (SCRUM)
Database knowledge, MySQL, MongoDB
Basic knowledge Node.js, Python
Familiar with Docker / Kubernetes
Work with AWS
If you want to apply for this position, please send us your CV to info@wor-con.com
We can offer you:
An opportunity to build platforms from scratch and influence architectural decisions
Working from our office in Varaždin, occasional work from home
Courageous, curious and entrepreneurial team members to work with
Financial support for transportation
Personal laptop
Incentive monthly income