The Dual Mass Flywheel, or DMF, is a major technological advancement in automotive transmission systems
The push for sustainability in the transport sector has driven the hybrid and electric revolution, but even conventional petrol-powered vehicles have seen significant fuel economy advancements, resulting in lower overall CO2 emissions.
A major part of these advancements is the direct result of smaller engines. Auto makers are now designing cars with three and even two-cylinder engines, and while these smaller engines have been successful in reducing fuel consumption, they are now being asked to provide the torque and power of much bigger motors. The result is a significant increase in vibration and noise, particularly at low speeds.
How did the automotive industry deal with this increased vibration and noise? The Dual Mass Flywheel.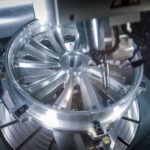 A DMF acts in much the same way as a traditional, single flywheel – they provide direct contact between the engine and the clutch assembly in manual transmissions. Where DMFs differ from single flywheels is more than the fact that there are two flywheels as opposed to one – it's what happens between the two flywheels that makes all the difference.
DMFs incorporate a series of springs between the flywheels and these springs act as vibration dampeners. Where vibration and noise in transmissions using a single flywheel has nowhere to go except directly into the powertrain system, a DMF's spring system dampens this engine vibration, resulting in less noise, increased comfort for the driver, and increased life of the transmission.
dual mass flywheel
What's the downside? Having a DMF installed has generally meant higher maintenance costs for drivers. Clutch replacement has often required DMF replacement at the same time, and DMFs have traditionally been expensive and time consuming for workshops to install.
But some recent developments are making replacing DMFs much more affordable.
Major DMF manufacturers like Valeo are producing DMFs that are simple for mechanics to install and require no special tools, meaning significantly reduced fitting costs.
Valeo have also recently introduced a new type of DMF, the VBladeTM. Instead of a series of springs between the two flywheels, the VBladeTM utilises two vibration dampening blades. The result is an incredibly durable DMF that will mean lower maintenance costs for drivers.
dual mass flywheel
Valeo VBladeTM DMF
Dual Mass Flywheels have proven to be so successful in reducing vibration and noise that now one in every two vehicles rolling off the assembly line is fitted with a DMF*. Chances are you have one on your car right now.
And as manufacturers like Valeo continue to develop DMF technology – increasing their durability and reducing their cost – DMFs look like they will be a major part of automotive powertrain systems for years to come.
* Source: theengineer.co.uk