The LTM 11200-9.1 is both the strongest and tallest telescopic crane in the world, lifting up to 1,200 tons (that's 2,645,000 pounds or 12 adult Blue Whales, depending on who's counting).
Its eight-part telescoping boom extends up to 328 feet (50 feet taller than the last record holder) and, with the addition of a lattice jib, has a maximum lift height of 630 feet, more than 50 stories high!
Though, despite its 445,000 pounds of counter-weight, when the LTM 11200 is picking up 2 million+ pounds, it can only extend about eight feet laterally without tipping.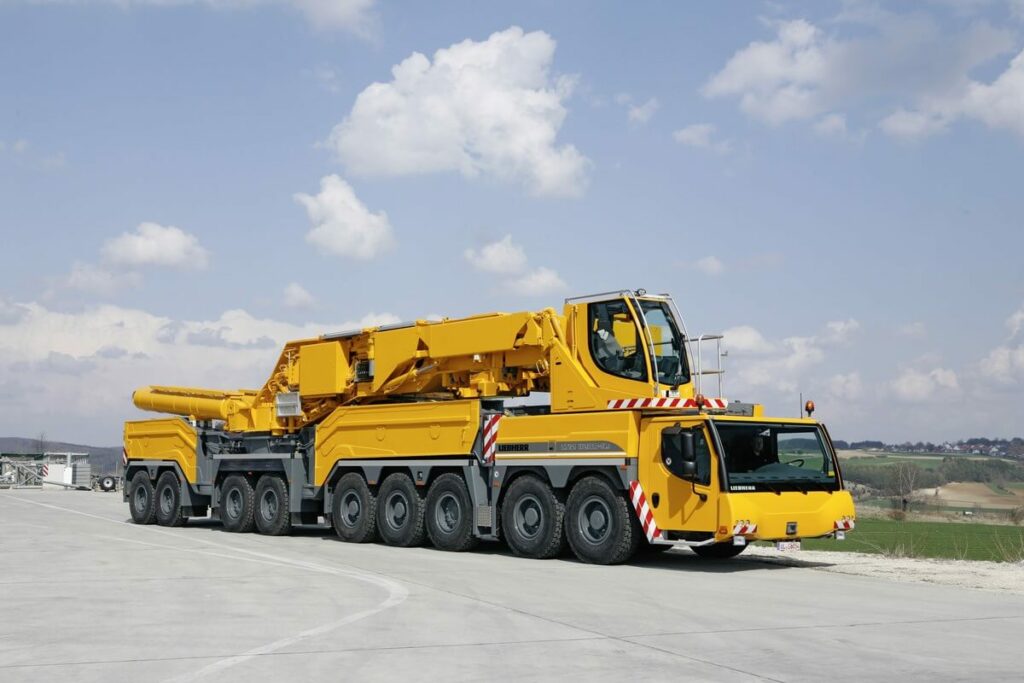 The crane is powered by a separate 6-cylinder 240kW engine (in addition to the 500kW engine that runs the 65-foot, 9-axle carrier). Its 100 ton boom is as long as the truck itself and actually has to be shipped separately when moving job sites. Luckily, the carrier isn't much wider than a normal big rig, which means that it can travel where other large cranes can't—like into fields, where the wind turbines live.
Technical data:
| | |
| --- | --- |
| Max. load capacity | 1,200 t |
| At radius | 2.50 m |
| Telescopic boom from | 18.30 m |
| Telescopic boom up to | 100.00 m |
| Lattice jib from | 6.5 m |
| Lattice jib up to | 126.0 m |
| Drive engine/make | Liebherr |
| Drive engine | 8-Cylinder-Diesel |
| Drive engine/power | 500 kW |
| Number of axles | 9 |
| Crane engine/make | Liebherr |
| Crane engine | 6-Cylinder-Diesel |
| Crane engine/power | 270 kW |
| Drive/Steering standard | 18 x 8 x 18 |
| Driving speed | 75.00 km/h |
| Total ballast | 202.00 t |
More information on: LTM 11200-9.1