Smart moulds equipped with sensors yield new applications and greater process gains.
This Germany-based mouldmaker has been recognised for its smart moulds for Industry 4.0 applications in the"Excellence in Production 2020" competition.
There have been a number of advances in mould and cavity sensors through the years that individually have provided moulders with increased productivity and new capabilities. BBG GmbH & Co. KG (Mindelheim, Germany), a manufacturer of moulds, machinery and plants, has developed and applies smart moulds for use in Industry 4.0 applications and in smart factory environments. The company is among the finalists in the "Excellence in Production" competition for Germany's best toolmaker in 2020.
BBG's moulds are designed and developed to process polyurethane, PVC, TPE and other elastomers, as well as a wide range of composite materials. This includes production processes such as PUR-CSM (PUR Composite Spray Moulding), LFI (Long Fibre Injection), RTM (Resin Transfer Moulding), SMC (Sheet Moulding Compound) or GMT (Glass Mat-reinforced Thermoplastics).
According to BBG, the smart moulds, can be used, for example, in encapsulation moulds for refining glass and polycarbonate sheets with polyurethane, or for manufacturing components on the basis of the PUR-RIM process. Furthermore, it is said to be suitable for all types of moulds used to produce safety-relevant or Class A components that place high demands on the manufacturing process and documentation.
Smart moulds also facilitate fully automated production lines. Typical customers include manufacturers from the automotive, pharmaceutical, and aerospace industries, who are required to document the production data of components due their obligation to produce proof of production.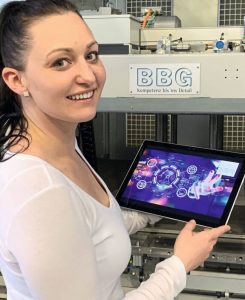 Lower cost, a higher level of productivity and process accuracy
According to BBG, smart moulds reduce the cost for material and energy consumption while increasing productivity and process accuracy. In addition, the process data required for documentation can be gathered for every component and can be stored long-term. To this end, moulds are equipped with a large number of sensors that collect data on process parameters such as temperature, flow velocity and pressure during the entire manufacturing process. Special sensors developed by BBG are also able to detect metallic inserts in steel moulds reliably. Measurements are therefore reliable even with the panes inserted.
All information can be processed on-site at the mould or forwarded to the higher-level control systems of other production lines. Any deviations from the target values specified are displayed and can be corrected immediately. Furthermore, the correct sequence and the performing of work steps can be specified and can be controlled by the mould itself. In this way, an operator always knows that the work steps have been carried out correctly in the specified order, and which ones will be next.
Comprehensive data documentation for every component
The data collected is stored so as to ensure that it can be retrieved and processed individually for every component manufactured. At the same time, the entire manufacturing process is documented fully and in real time. "Smart moulds are at the top of our wide range of products, which starts with simple and cost-efficient prototyping moulds", says Hans Brandner, the managing partner. "What the customer needs is what counts for us. We develop the right mould customised to meet every requirement."