The Pearl Bridge (Akashi-Kaikyo)  is holding the title of "World's Longest Suspension Bridge" with a span of 1,991 meters (6,532 ft).
The second longest suspension bridge is China's Xihoumen Bridge. The bridge links the city of Kobe (Japan)  on the mainland of Honshū to Iwaya on Awaji Island by crossing the busy Akashi Strait. It carries part of the Honshū-Shikoku Highway.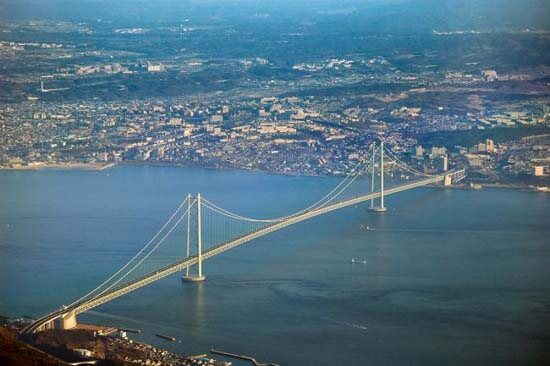 The construction was finished in 12 years which actually begin in the year 1986 and was completed in the year 1998. Akashi Kaikyo Bridge plays an important role in providing three routes across the Inland sea.
Architecture
Akashi Pearl Bridge uses one of the finest architecture and technology which consists of three spans. The Akashi Kaikyo Suspension Bridge is designed in such a manner where the earthquakes and harsh sea currents doesn't damage the bridge. The Kobe earthquake on January 17, 1995 is the best example for this bridge's efficiency.
The main span was designed to be 1,990 meters with 2 side spans of 960 meters each. The bridge roadway surface was constructed atop a 14 meter deep, 35.5 meter wide truss girder system, suspended from main cables passing over 2 steel towers rising 298 meters above main sea level. A 65-meter clearance was maintained over the shipping lane.
The 1.12-meter diameter main cables were erected using full-length, prefabricated strands. Approximately, 181,400 metric tons of steel was used in the superstructure and 1.42 million cubic meters of concrete in the substructure.
History
Before the construction of the bridge, boats and ships (ferries) were used to carry passengers and vehicles across the Akashi strait. Akashi strait is an international waterway which is approximately 1500 meter wide shipping lane. Akashi strait waterway was one of the dangerous waterways before the construction of Akashi Kaiko Bridge due to some severe storms. During the year 1955, a severe storm was experienced in which two ferries were sank resulting in the death of 168 people.
As a result, the Japanese government planned to develop a suspension bridge to cross the strait. Originally, the plan was to construct a railway bridge along with a road bridge but the construction was restricted to a road bridge only consisting of 6 lanes. Costing an estimated 500 billion Japanese yen, its construction began in 1988 and involved more than 100 contractors.
Tourism
The Pearl Bridge was constructed in such an extent which also attracts tourism in Japan. Two amazing parks were built in the surroundings of Akashi Kaikyo Bridge for tourists. The two parks were named Maiko and Asagiri. The view from the park is a wonderful experience to the visitors as the view from there is absolutely magnificent. Both the parks can be reached by traveling through the coastal train line.