Siemens Digital Industries Software's NX platform is described as an end-to-end software solution for part manufacturing, powering machining, robot programming, 3D printing and CNC programming.
NX CAM software's 5-Axis Adaptive Milling, an advanced roughing strategy, enables high material removal rates using fewer setups resulting in shorter machining times, the company says. The 5-Axis Guiding Curves finishing strategy has been improved to include parametric tool axis interpolation, providing more control for surface finish.
Robotic programming now enables users to program and simulate multiple robots to perform machining tasks such as drilling, deburring and polishing.
NX Additive Manufacturing facilitates the AM process from design model to printed part, the company says, with integration designed to eliminate the need to convert and remodel parts between applications. The Siemens HP MJF Build Processor enables printing of color parts directly out of NX without the need for third-party build processors, supporting the HP MJF 5200 and HP MJF 540 color series.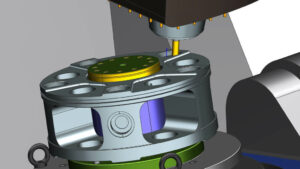 Post Hub is a cloud-based postprocessing system designed to streamline the process of generating production-ready CNC programs. Fully integrated in NX CAM and with more than 1,000 postprocessors, Post Hub can help manufacturers generate programs for a range of CNC machine and control configurations, the company says.
NX is part of the Xcelerator portfolio, Siemens' integrated portfolio of software, services and application development platforms.