Every industry has those dirty, dull, and dangerous tasks that no human desires, but they have to be done. Whether the job entails inspecting hazardous waste sites, surveying enemy grounds in battle, or mundane and repetitive assembly line tasks, many organizations and individual lives are affected and improved by the robots that work in their midst. Though the option hasn't been available until very recently in human history, roboticists are now realizing that there are some things better left to machines than in the hands of valuable human workers.
Dirty jobs
In many cases it's the potential for human error that promotes robotic innovations that answer questions within the three D's of industry. In the health industry sanitation is of the utmost importance, and it can take hours to sterilize an operating room. Furthermore, there are dozens of infections that spread in hospitals and actually do harm – sometimes fatally – to patients who ought to be improving in health. Cleaning surfaces with certain chemical cleaners has actually proven to induce antibiotic resistance, especially to particularly troublesome spores. The TRU-D Rapid Room Disinfection, a remotely operated robotic technology designed to tackle this problem of sanitation in the health care industry.
By using natural UV rays, with just the push of a button, every surface in an entire room, can be disinfected in minutes. Designed to break down the DNA of most bacteria, the robotic system doesn't require any complex installation or operation, and can therefore be used by anyone. It can adjust to any size or furnishing of a room to ensure that it reaches every nook and cranny. Sensors monitor the process and report the results, helping hospitals to collect data on their sanitation practices. Some such data from hospitals has shown that the TRU-D system reduces the transmission of superbugs by 30 percent. Making strides in Africa to fight Ebola alongside the many North American doctors who went and now being adopted by hospitals around the country, the TRU-D technology shows promise to aid in sanitation across many industries in years to come.
Another robot found in a sticky situation is Copperstone Technologies' AR1 robot designed to collect data from mine tailing pools that can be kilometers in length, and completely unfit for humans. Their AR1 platform, in conjunction with Robotiq's force torque sensor, the FT150, allow a fully capable robot to, with a human-like sense of touch, to take all the measurements needed to monitor mine tailing pools. 
Dull jobs
Manufacturing has seen the advent of many coworking robots that are not only more affordable than traditional industrial robotic systems, but are safe to work outside of their own confined spaces. The most well-known among these cobots is Baxter from Rethink Robotics who is being used in manufacturing facilities around the country. General Electric has set a precedent in the manufacturing world as a company actively seeking out dirty, dull, and dangerous tasks where robots could easily free the hands of their skilled workers. In 2014 they announced their Cobot Challenge, a company-wide search for optimal Baxter tasks. They landed on four manufacturing facilities where Baxter now stands alongside assembly line workers, optimizing production and allowing workers to focus on safer or higher skilled tasks.
Whippany Actuation Systems, a manufacturer of rotary and linear electrochemical actuation systems for both the defense and aerospace industries, was faced with a similar dilemma recently. With a growing demand they were either in need of a new CNC machine, which is no small cost, or other more affordable automation solutions. They landed on using Universal Robots and the Robotiq 2-Finger Grippers to load their exisiting CNC machines so they could be in tireless production 24 hours a day.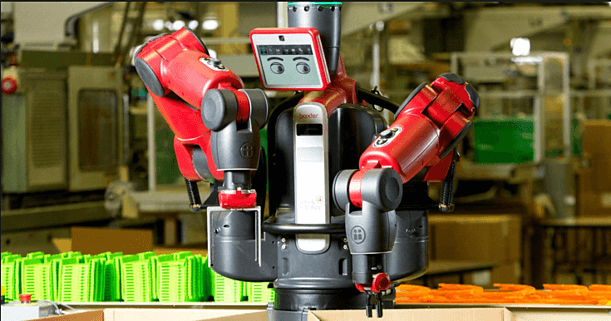 Dangerous jobs
In light of natural disasters like the Fukushima power plant explosion following the earthquake in 2011, many efforts are under way to replace humans with robots in the wake of disaster. With the staggering contamination that swept the area with the collapse of multiple nuclear reactors, radiation in certain areas within the plant is so high, even five years later, that it could be fatal to a human within minutes. Still in the midst of this disaster with no way to send humans into the perilous environment, the Japanese government has turned to the robotics industry to develop inspection, cleaning and response robots.
The risk involved in the ongoing response to the Fukushima problem, and the challenges that arise in developing robots that can actually navigate through the wreckage has proved a real task for roboticists. Working alongside their counterparts in Germany, Denmark, and the United States, Japan's robotic engineers are not only faced with dealing with their current problem, but also the burden of looking forward should there be another similar disaster on their home turf or anywhere around the world. These combined goals have bred a whole new industry of innovation that, five years ago, had little to offer in that critical moment. This requires that the field use all of its interdisciplinary faculties and outside-the-box thinking to solve problems that have yet to strike.
The Quince, Rosemary and Sakura robots, iterations of the same design, have been central to the ongoing data collection of the Fukushima power plant. Busy gathering data for radiation maps, collecting samples of airborne radioactive particles, and monitoring radiation dose rates, this has been one of dozens of groundbreaking disaster response technologies to come out of Japan since the earthquake of 2011.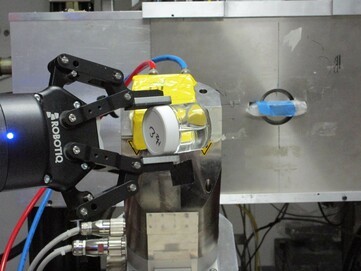 Robots are useful in radiography applications that haven't been overcome by disaster as well. At Los Alamos National Laboratory, a robotic arm, fit with Robotiq's 2-Finger Gripper, is used to automate the handling of radioactive materials used in x-ray imaging and testing in support of the lab's nuclear weapons stockpile. By integrating automation in this step of the research and development process, they free humans from coming into contact with potentially harmful materials. 
Regardless of the industry you are working in there are bound to be countless jobs that fall under the categories of dirty, dull or dangerous for which robots exist. With applications expanding rapidly and the advent of cobots, there have never been so many opportunities to incorporate advanced technology into every facet of industry.