A look at manufacturing technology advancements in the virtual space in and around the machine tool
Machine shop operators and programmers don't spend all their time at their workstations. There is a lot to be done — a lot to be learned — about CNC machine performance and capability, and much of that new and emerging information concerns not just the machines or machine programs, or machine peripherals, but all of these as interactive systems. The information concerning machine automation and machine programs, and machine performance standards, is converging.
More than this, the convergence is taking place simultaneously on the shop floor and in the Cloud, so that what happens within the machine is influencing and being influenced by what happens between machines.
Because technology cannot wait, what follows here is a series of vignettes on recent developments in machine tool automation and connectivity.
Midrange CNC with better hardware, software options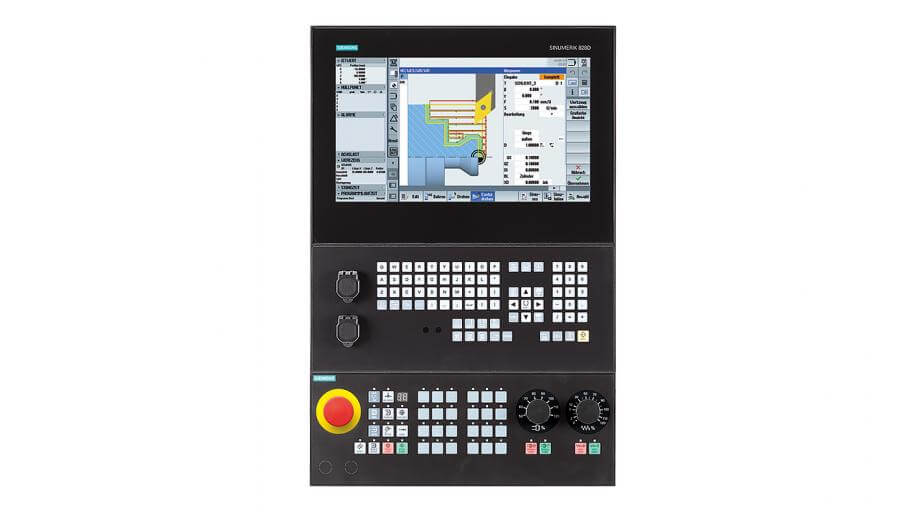 SIEMENS is offering its Sinumerik 828D mid-range CNC with version 4.8 of the operating system. Integrated industrial software and automation mean machine tool manufacturers can leverage the full productivity of the digital factory in a mid-range control.
 
Sinumerik 828D is a compact, panel-based CNC, offered in vertical and horizontal models for flexible machine design integration. The resident Siemens technologies of Advanced Surface and Top Surface optimize surface finishes.

Up to 10 axes of motion with two auxiliary axes are possible.  Color displays, in sizes 10.4 in. or 15.4 in., and the powerful Simatic S7 PLC are also standard.  With three steps in the new software version, depending upon the motion control needed, Siemens is bringing the 828D standard models to a highly competitive price point for the builders of CNC milling, turning and grinding machines.  
Learn more at www.siemens.com
Manufacturing operations management software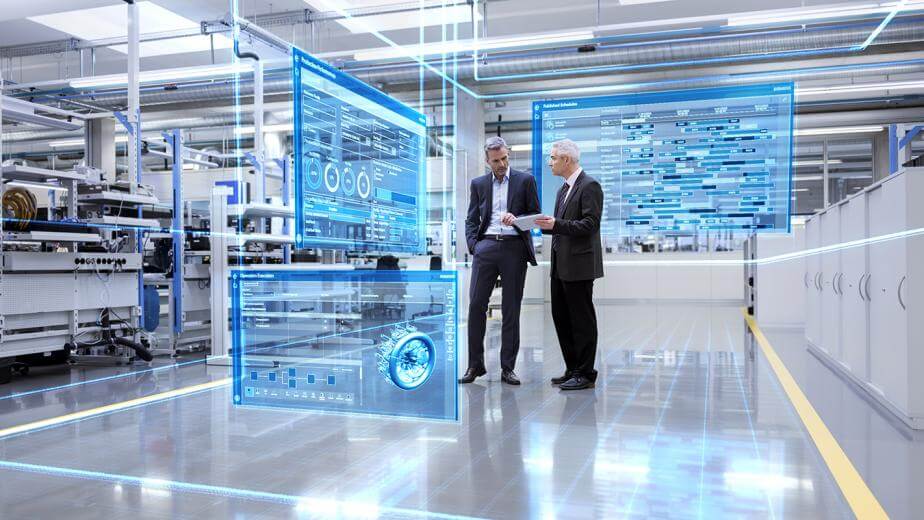 SIEMENS DIGITAL INDUSTRIES SOFTWARE introduced Siemens Opcenter™ software for manufacturing operations management (MOM) is a single, connected cloud-ready portfolio that can help manufacturers meet demands for production efficiency, quality, visibility and reduced time to production. Opcenter integrates advanced planning and scheduling, manufacturing execution, quality management, manufacturing intelligence and performance, and formulation, specification and laboratory management.
The new portfolio combines products including Camstar™ software, SIMATIC IT® suite, Preactor, R&D Suite and QMS Professional into a portfolio that unifies these widely recognized products and leverages synergies between them. A web-based, modern, consistent, adaptive and comfortable user interface implemented throughout offers a situationally adapted user experience and facilitates the implementation of new capabilities and additional components while reducing training efforts.

Learn more at www.siemens.com/opcenter
Program Combines ERP and MES functions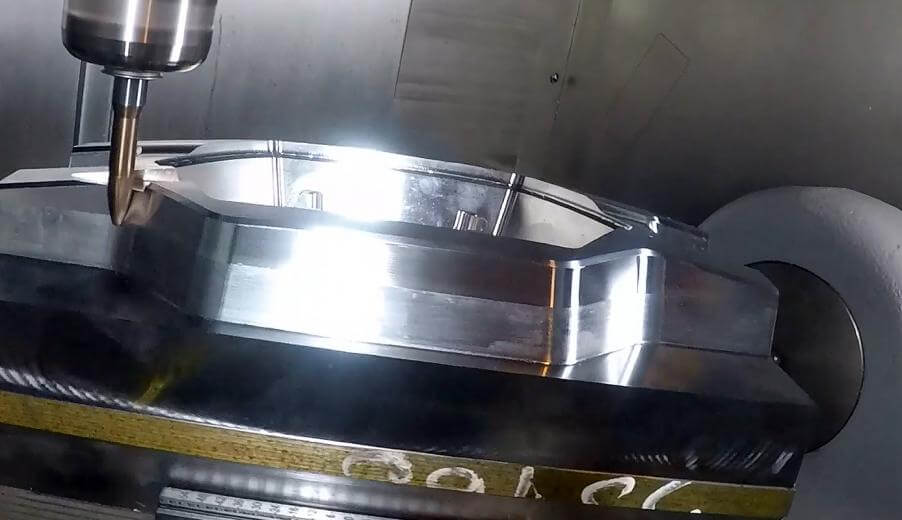 The latest release of Workplan from the Production Software business of HEXAGON MANUFACTURING INTELLIGENCE is the first integrated project management system combining ERP and MES in a single database, for centralizing business data to improve production management, including machine events, monitoring, CMMS, CAM supervision, workflow, and part traceability.    
WORKPLAN 2020.0 integrates internet solutions for job-time tracking on the world wide web, including clock-in/out time tickets at the start and end of the working day, along with time spent on both productive and non-productive activities. This avoids the need for additional time-consuming data input.

Learn more at www.HexagonMI.com.
Turnkey structured light 3D measurement cell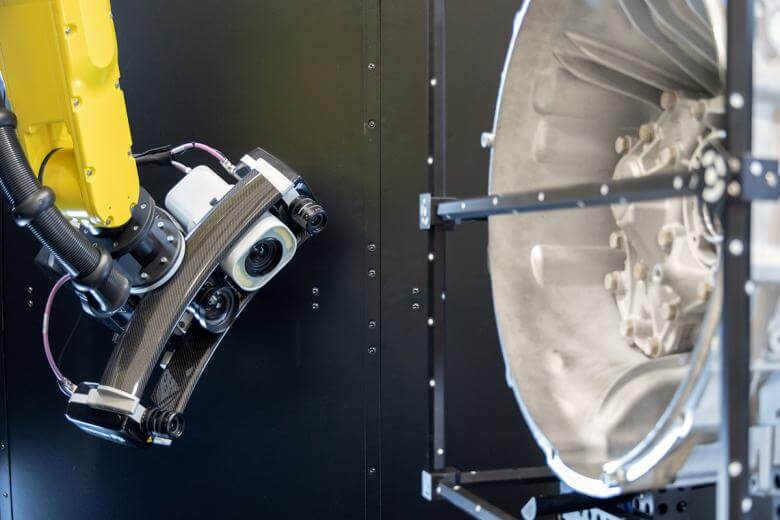 Hexagon Manufacturing Intelligence launched PartInspect L, the first automated 3D measurement cell product based on AICON scanner technology. Featuring a choice of structured-light scanning technology paired with a flexible robot arm and housed within a modular cell format, PartInspect L uses advanced automation for high-speed, high-quality part measurement and analysis.
The system features interactive automated scan planning, as well as robot path generation and collision avoidance systems based on CAD data that deliver a truly automated 3D measurement experience, from planning and scanning through to analysis and reporting.
Preassembled and configured in the factory, PartInspect L delivers 'plug-and-play' functionality that allows for set-up within less than two working days and requires no engineering work onsite.

Learn more at www.HexagonMI.com.
New robot cell for a wide range of workpieces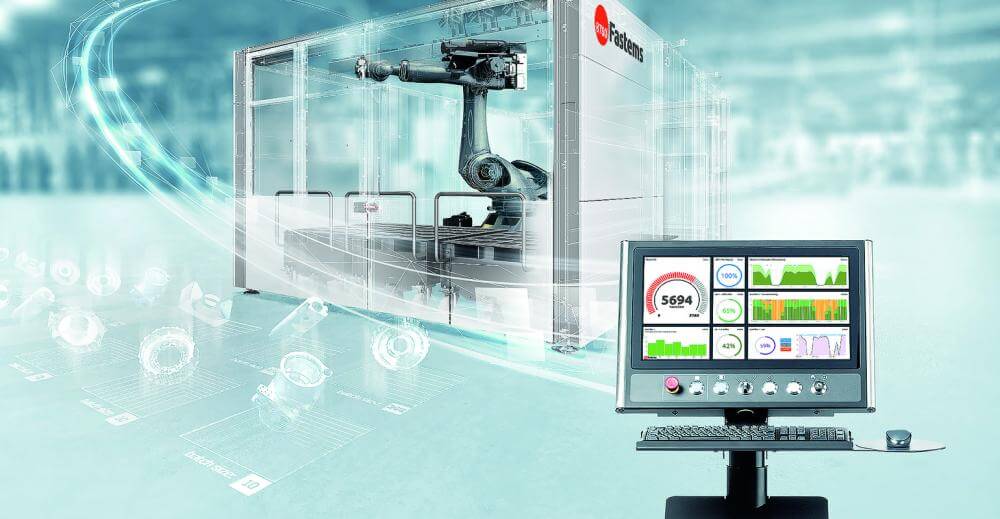 The FASTEMS RoboCell One which we presented earlier sets new standards for adaptable and flexible machining, particularly heavy workpieces in batches of different sizes. The easy-to-configure robot cell is designed mainly to handle workpieces weighing up to 176 lbs. (80 kg) and for automating up to two machine tools of the same type – either lathes or milling machines.
A special feature is an optional, automated gripper change system for flexible handling of workpieces and the simple implementation of new components – without interrupting production operations. The robot can be fitted with single, double, or special grippers. Up to six different grippers may be used for handling workpieces in specific production operations.
A single robot that can be operated in one linear axis is able to supply two machines with workpieces in a flexible manner. Further, different products can be simultaneously produced by using both machines together.

Learn more at www.fastems.com
Collaborative robot machine tool cell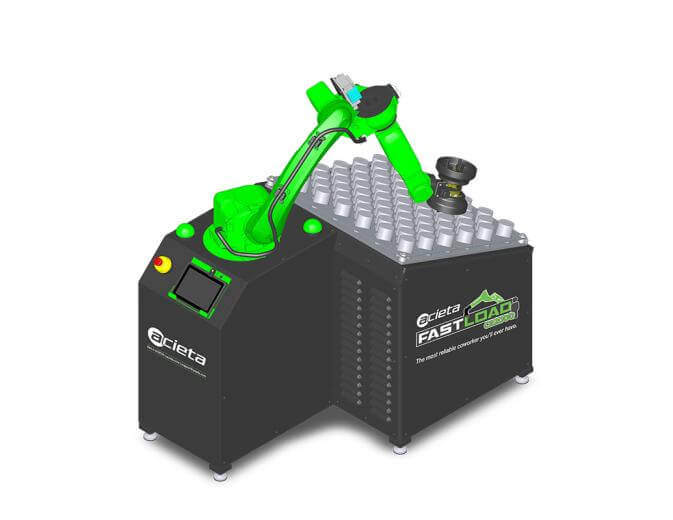 ACIETA launched the FastLOAD CR2000 standard machine tool cell designed with all components fully integrated for fast delivery and start-up as well as at a low cost. The FastLOAD CR2000 can tend two machines simultaneously, so an operator can load and unload parts while the robot is working on the other machine.
It features a FANUC CR-15iA collaborative six axis robot, an intuitive touchscreen interface with easy in-shop WiFi programming, and gripper fingers that allow for parts ranging from 5/8 in. to 5.75 in. diameter.
Learn more at www.acieta.com/fastload-collaborative-cells
Controller and multi-touch HMI in one device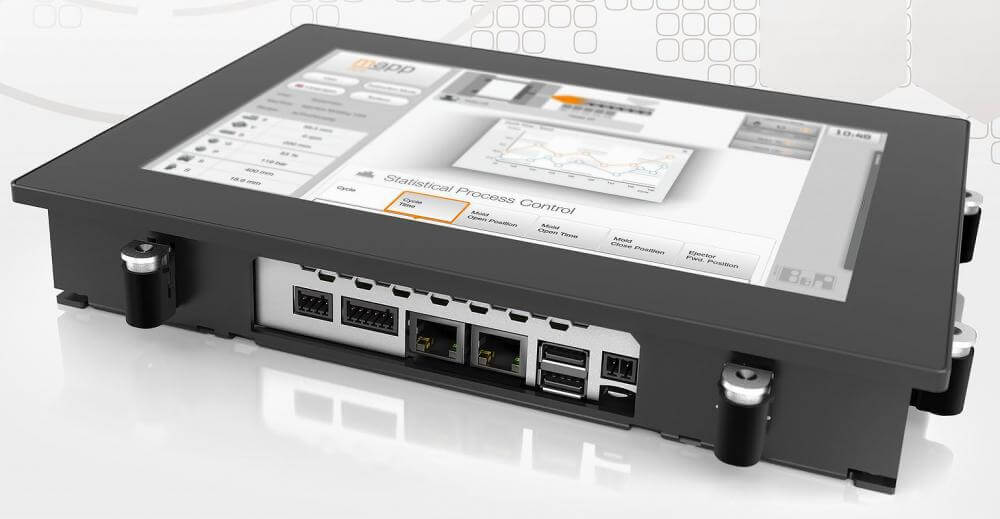 B&R INDUSTRIAL AUTOMATION's Power Panel C50 combines a powerful controller and a modern projected capacitive touch screen in a single HMI device. It's equipped with a dedicated processor for the HMI application, so it's an optimal solution for mapp View HMI applications. It can be used at temperatures ranging from -20°C to +60°C and does not require a fan.
The modern multi-touch HMI is available with clear or anti-reflective glass, and reacts precisely and reliably even when operated with thick leather gloves. Gestures such as zoom or swipe provide an intuitive user experience. The Power Panel C50 is available in widescreen format (7.0-15.6 in.
It has a wide range of integrated interfaces, including POWERLINK, Ethernet and USB. I/O modules, axes and safety components can also be connected directly to the panel. There's no need for additional controllers.

Learn more at www.br-automation.com
Partnership for on-machine measuring software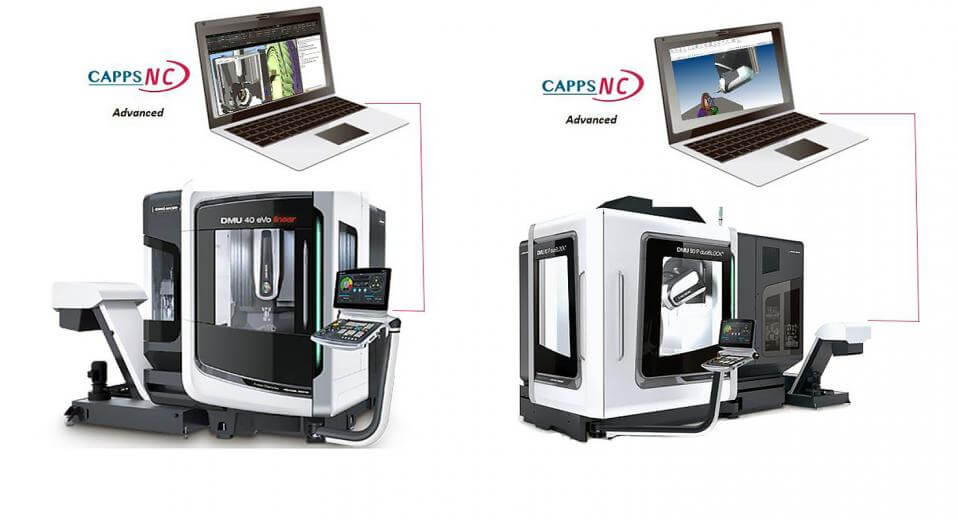 APPLIED AUTOMATION TECHNOLOGIES and DMG MORI will offer CappsNC capabilities to quickly develop measurement programs offline and run these programs directly on CNC machine tools in a similar way to a CMM.
Measurement results are used to adjust machining process parameters, such as calculating precise work offsets, dynamic tool compensations and other critical data feedback in an automated process together with providing complete part inspection and SPC reports.
Learn more at www.aat3d.com
CNC verification software optimizes machining results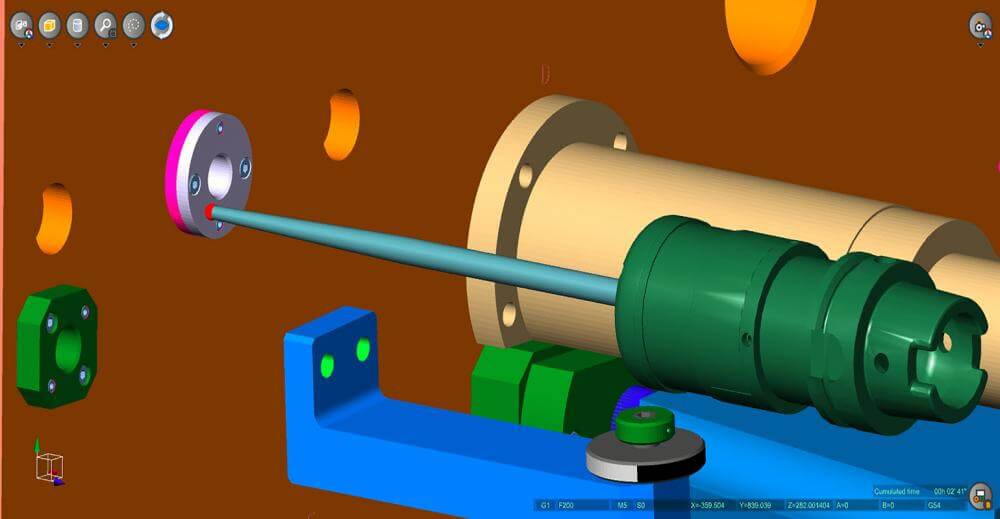 HEXAGON Manufacturing Intelligence's new NCSimul CAM simulation software release includes new and enhanced functionality so users can execute tasks for existing projects on a remote server. Based on client/server scheduler architecture, the new version of NCSimul's machining module includes new automation functionality for jobs on other devices by communicating with distant servers.
The Automation Module provides a number of significant benefits, including a guarantee that a full 100 percent of the program sent to the workshop is validated by the simulation.
The high-end NCSimul Machine 2020.0, which detects NC programming errors and any potential collisions from the same NC code that drives the CNC machine, also contains enhancements to a variety of functions, including Probing and Optitool.

Learn more at www.HexagonMI.com.
Plug-and-play machine monitoring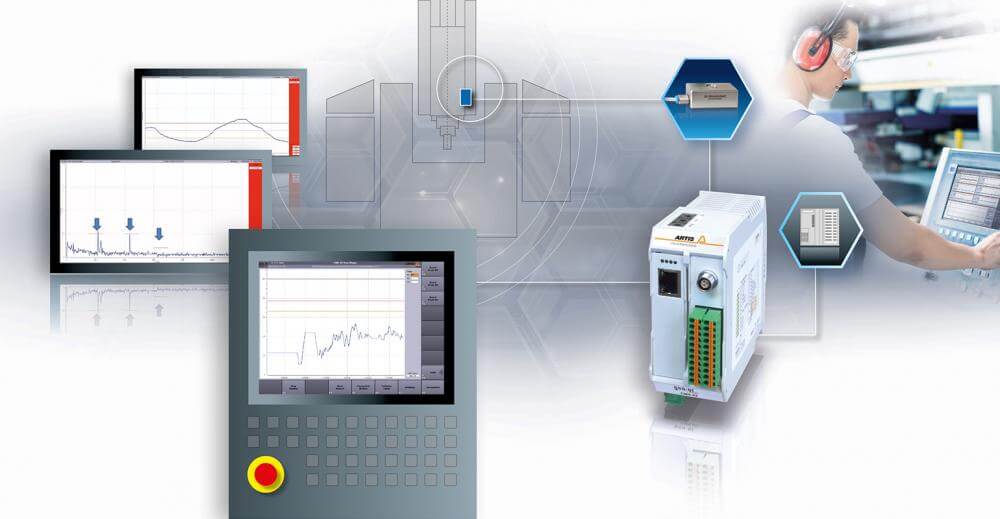 MARPOSS CORP. Genior Modular GEMCMS-02 single-channel, compact machine monitoring system for collision monitoring and crash damage mitigation can be used as a stand-alone system or in combination with other Genior Modular solutions, and integrated into machine tools, equipment or robots, to protect machinery and minimize downtime from programming, setup or operating errors.
GEMCMS-02 monitors the deformation of the spindle housing structure via a piezo strain sensor that detects irregularities in production. It measures elastic deformation in the range of 1/10 of a micron, and both slow and dynamically (impact or shock) increasing forces that can indicate damage potential. It then generate stop signals within 1 millisecond, to alleviate or eliminate machine crashes.

Learn more at www.marposs.com/eng/marposs-machine-protection
Web-based control software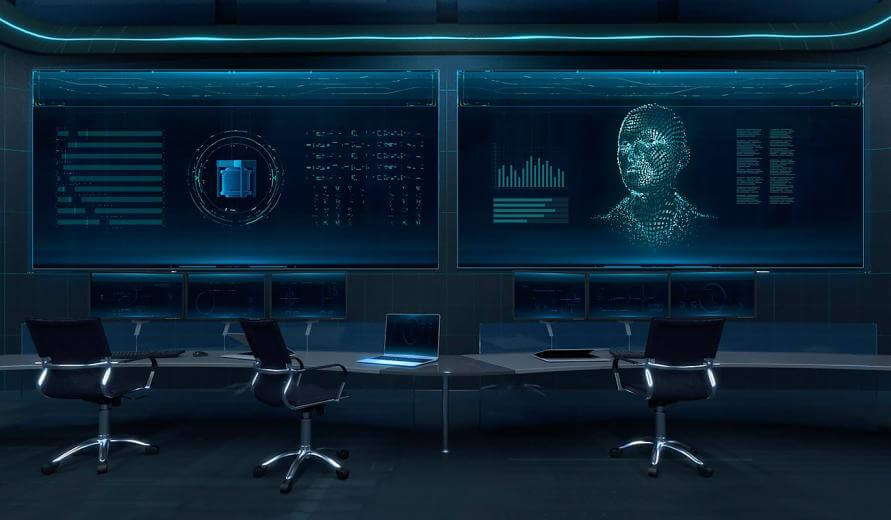 SIEMENS' Simatic PCS neo is a new system software for global web-based collaboration in engineering and operation, with an intuitive user interface that displays all relevant information in a single workbench. Users benefit from an graphical user interface (GUI) that allows them to reach any application with just a few clicks. Simatic PCS neo's workbench makes it easy to change between the Engineering and the Monitoring & Control view at any time. The seamless object-oriented data model increases efficiency and quality over the entire plant lifecycle.
Simatic PCS neo impresses with an open and flexible architecture, in which modular engineering with support of Module Type Packages (the open MTP standard) is already integrated. The control system scales to support applications of all sizes, from small process modules up to the largest plants in the world. This is made possible by reusing engineering templates for the easy scale-up and adaptation to different plant sizes.

Learn more at www.siemens.com/pcsneo
Low-code application development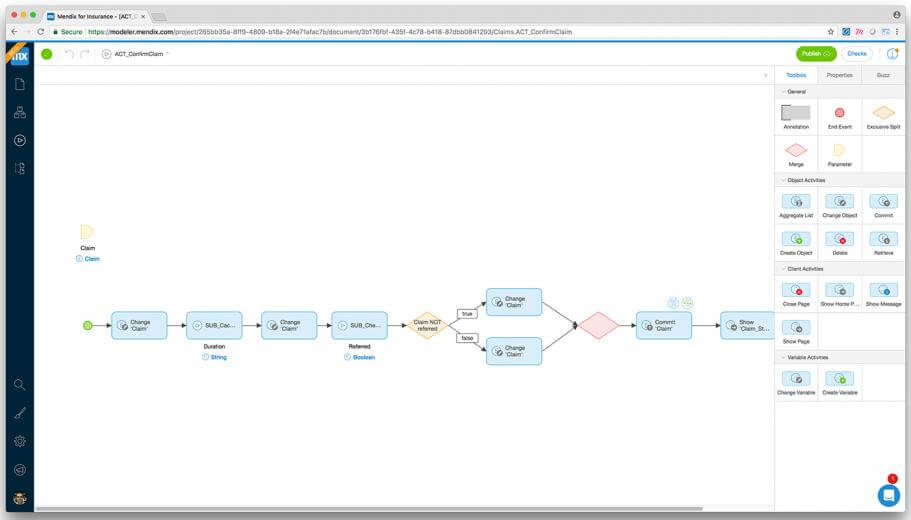 SIEMENS introduced Mendix for MindSphere, bringing digitalization and business benefits of its low-code application development platform for the enterprise to software development for the industrial internet of things (IoT). MindSphere®, the cloud-based, open IoT operating system provides developers with open APIs, services and the support needed to quickly and easily build, test and deliver MindSphere applications.
The Mendix for MindSphere integrated solution is an "innovation driver for IoT," which will help accelerate the time-to-value for industry investments in connected sensor technology. The Mendix application platform's AI-assisted, visual development model expands the pool of talent available to develop IoT applications. Business developers, domain engineers, and plant operations staff — in addition to professional developers — can now build advanced IoT solutions without the need for coding.

Learn more at visit www.siemens.com/plm.
AR for design visualization and collaboration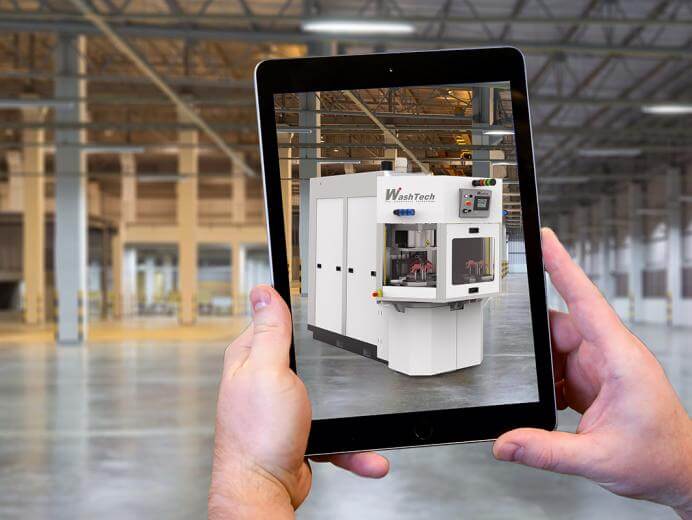 SIEMENS Digital Industries Software presented a new version of Solid Edge® that helps small and medium-sized manufacturing companies accelerate product development and manufacturing processes. Through new features like augmented reality, expanded validation tools, model-based definition and 2D Nesting, Solid Edge 2020 provides next generation technologies to enhance collaboration and fully digitalize the design-to-manufacturing process. 
Solid Edge 2020 AR capabilities let users visualize design intent in new ways, enabling enhanced collaboration internally, as well as with suppliers and customers during the design process. New and powerful validation tools have been integrated for conducting motion and vibration simulation. Model Based Definition enables customers define parts, assemblies and manufacturing instruction digitally from their 3D model. 2D Nesting has been added to optimize cutting patterns, reduce waste and costs, and accelerate manufacturing processes.

Learn more at www.siemens.com/plm
Digitialization and network connectivity options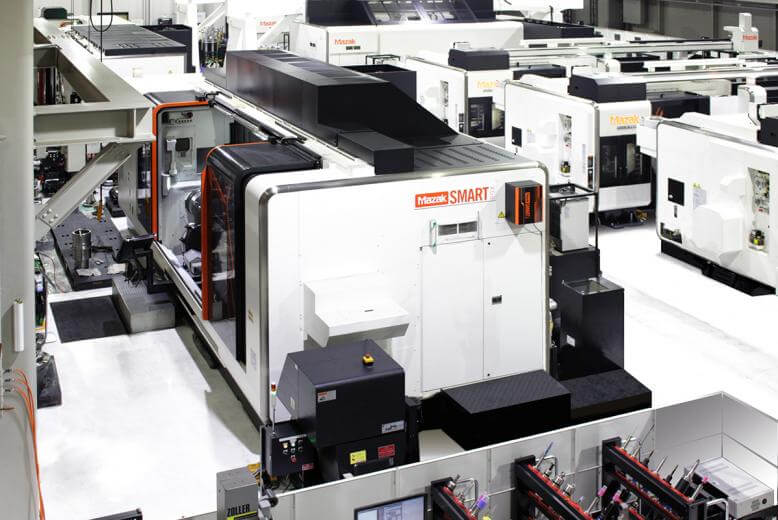 The MAZAK SmartBox IIoT connectivity solution — part of the Smooth Technology suite of digital solutions and network connectivity options — is a platform for easy and highly secure entrance into the Industrial Internet of Things (IIoT). It's a scalable, end-to-end solution that connects machines, software, and other manufacturing equipment to a single network via the MTConnect® open source communications protocol for a fully networked manufacturing environment.
Because digital connectivity needs differ, Mazak developed its Smooth Link solution that makes remote monitoring simple. It requires only an off-the-shelf wireless network to enable users to monitor and manage their machines from any computer, tablet, or smartphone.
Mazak also offers cognitive or smart automation through its Smooth MPP software that works with the Multi-Pallet Pool (MPP) automation to predict necessary tools and production output according to the production schedule.

Learn more at www.mazak.com