Focus on the digital factory
Holistic process planning, connected solutions and production analyses: Digitalisation causes a staggering change in the manufacturing industry. The topic of a Lunch & Learn event held by Okuma and Sandvik Coromant was "Digital Factory".
On 9 July 2019, numerous representatives from manufacturing companies came to the Okuma Technical Centre South in Langenau, Germany and learned about the great potential of transparent processes. A similar event took place in Krefeld on 2 April 2019. The programme included expert presentations and live demonstrations of industry 4.0 technologies on the latest CNC machine tools.
Rapid digitalisation offers enormous opportunities for increased productivity. Visualising complete production environments reduces costs and shortens lead times. With technologies like Okuma's 3D Virtual Monitor, manufacturers can simulate and test the entire machining process in advance. For a precise simulation on the machine, 3D Virtual Monitor directly uses the construction data sets. This avoids costly programming errors and shorter setup times. Further benefits are safe parting-off operations and reliable transfers of the workpiece. When simultaneously machining with several turrets, the digital manufacturing solution enables fast and efficient inspection.
Connect Plan: Connect, visualise, optimise
Okuma's Connect Plan paves the way for the Smart Factory. The software-based solution connects machine tools, collects their data and visualises production processes for improved utilisation. The Industry 4.0 system is also capable of integrating third-party machines. For traceability, the individual identifier of a workpiece is linked to the machining data and measurement results for each machine. If a problem occurs, the cause can be analysed and production can be continued with higher quality and reliability. In addition, the process data collected is used for predictive maintenance to predict and plan service intervals.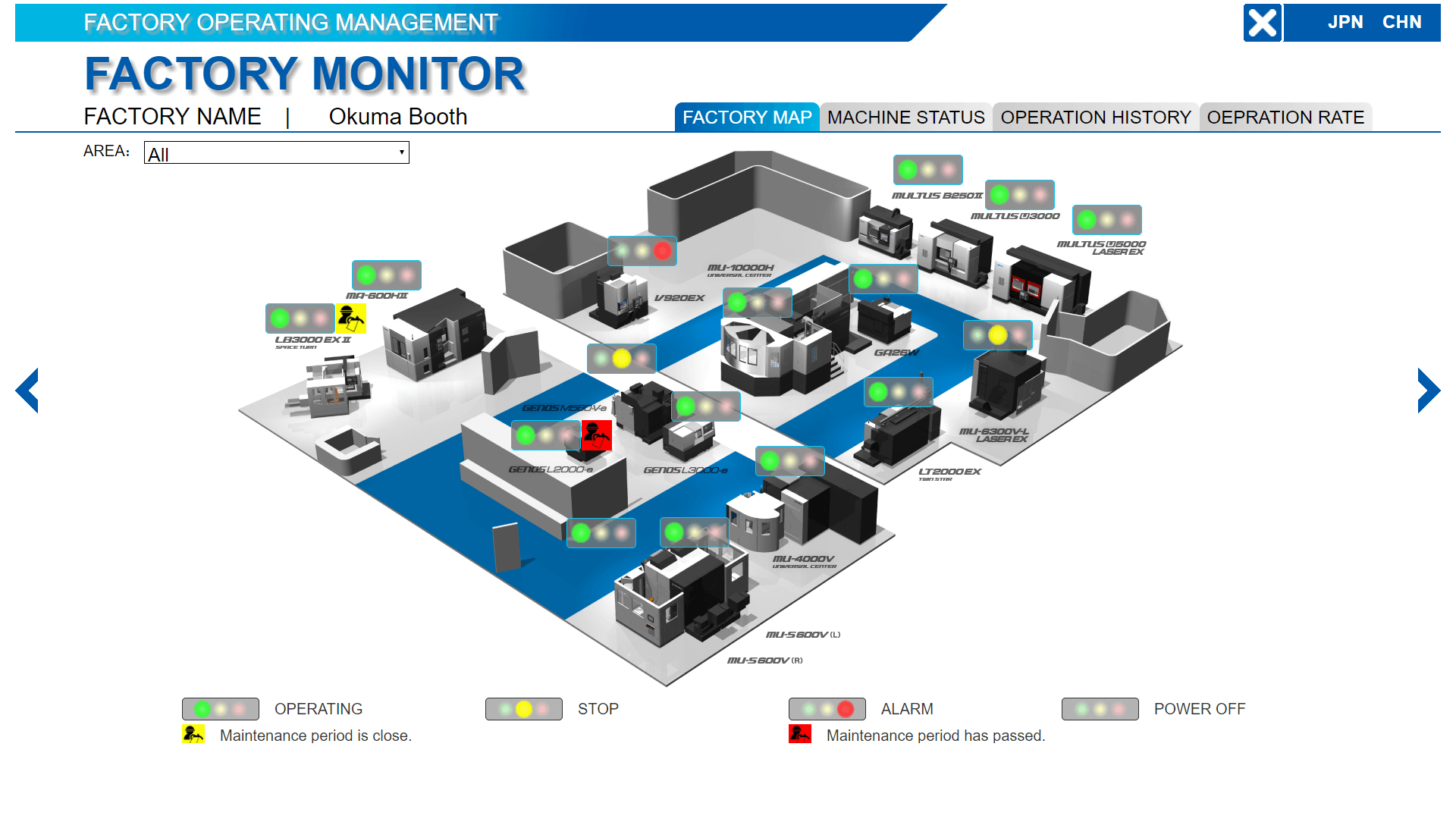 OSP-P300A control: share data automatically
Okuma is the only single-source provider in the industry to supply CNC controls from its own production. The intelligent control OSP-P300A was developed especially for the latest production requirements. It is perfectly tailored to the CNC machines and provides an efficiency boost with its new shared database. Data entered in one area of the control can be shared automatically. Users save unnecessary programming operations and shorten set-up times. Thanks to the open Windows architecture, Okuma machines can be easily integrated into existing production environments. 
Battling vibrations – symbiosis of software and hardware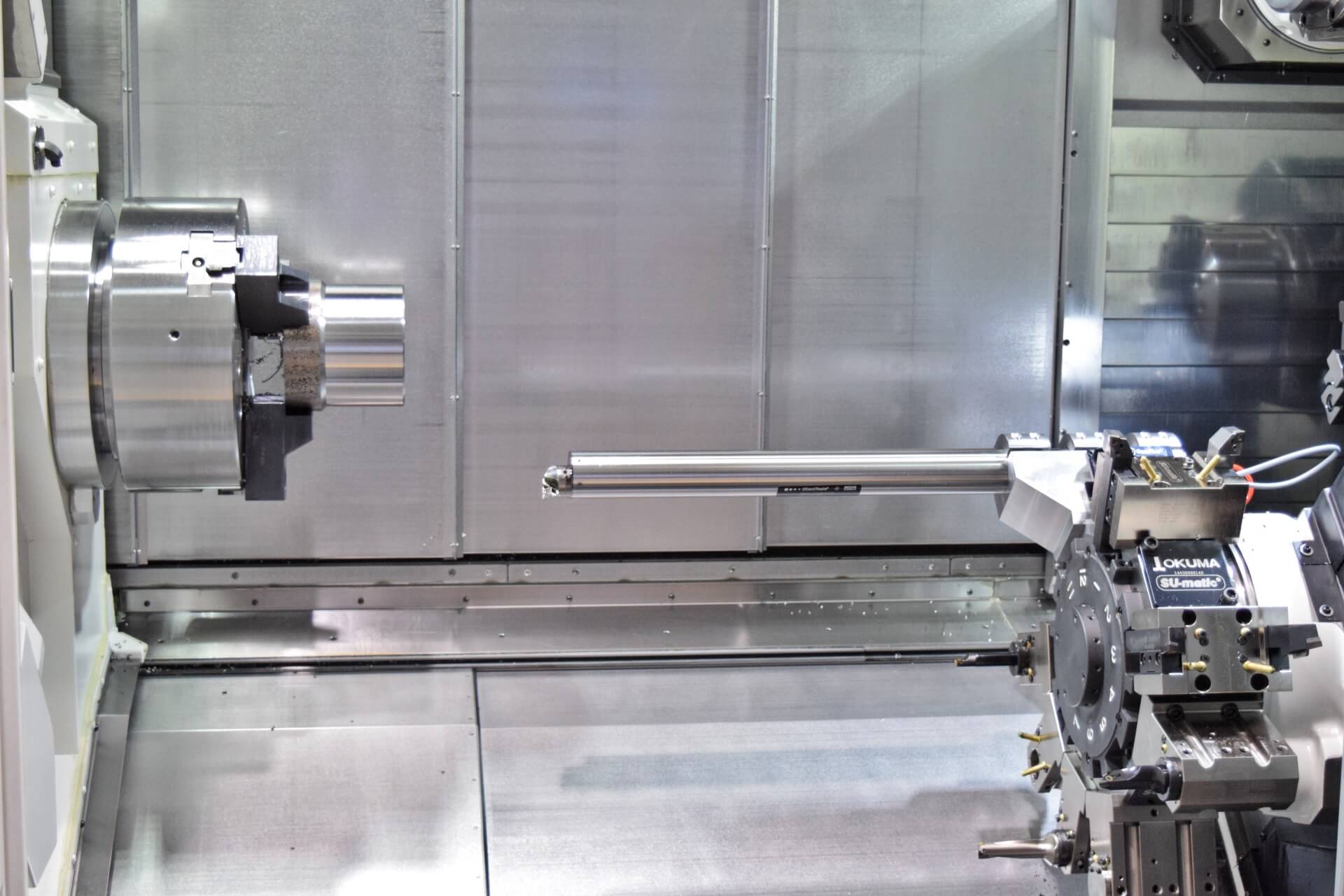 Any Digital Factory relies on the perfect harmony of hardware and software. Okuma and Sandvik Coromant successfully demonstrated this with their Silent Tools Plus technology and an Okuma MULTUS U4000 multitasking machine: vibrations occurring during the internal turning of thin components were completely eliminated. Vibration-damped tools with integrated sensors achieve higher efficiency in turning operations. The Silent Tools Plus software allows the data to be read directly from the machine display. With the help of the vibration indicator, the cutting process can be monitored, and chip build-up is prevented. Operators know whether the tool is cutting and can easily monitor the machining process. As a result of this optimised tool use, cycle times can be shortened and surface quality improved.