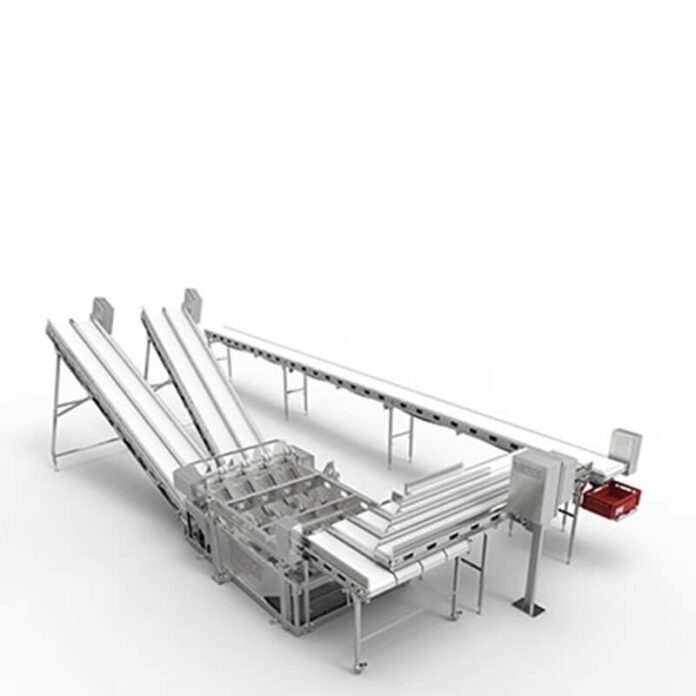 NIEROS Metal marination processing lines represent comprehensive solutions for quick, easy, and effective red meat, poultry, and fish marination.
Complying with the standards of HACCP, IFS, and NSF, the process is largely automated to protect food against deformation and add value to your products.
PROCESSING LINE COMPONENTS
PRODUCT SPECIFICATIONS
Main conveyor belt
Multilevel conveyors at the marinating stage
Marinade pool
Connecting conveyor
NIEROS MARINATION STAGES
The main conveyor belt transports red meat, poultry, or fish pieces to the marinade pool.
Once marinated, the meat is transported by multilevel conveyors for optimum marinating results. Due to the automated in-line multilevel system, there is very little to no manual product handling, resulting in significantly less product damage during processing.
After the marination, the meat is conveyed to the packaging station.
Watch the VIDEO and learn more:
MORE ABOUT NEIROS FOOD PROCESSING LINES
Food processing sector is a delicate and intense industry where raw materials need to be handled with great care in order to comply with the highest quality and hygiene standards. At the same time, the process needs to be cost- and time-efficient, ensuring the material flows as smoothly through the shortest number of phases as possible while minimizing food waste.
By providing a wide range of custom food processing line solutions, NIEROS® effectively meets the needs of food production, specialized in meat, poultry, fish and seafood, fruit and vegetable, bakery, diary and other food processing lines.
NIEROS® food processing line solutions minimize food contamination risk and conform to the requirements of HACCP, IFS and NSF. Last but not least, all our products are produced in-house and made from high-quality stainless steel to meet the highest quality requirements.
BENEFITS
High Capacity
Ergonomic design and work simplification
Labor cost reduction
In compliance with the highest hygiene standards
Quick and efficient service
Developed by NIEROS® experts, yet inspired by our clients
Fully customized
Rationalized production lines and performance optimization
Effective digital monitoring for time-cost optimization
Easy cleaning, maintenance and management
Integrated solutions
 

NIEROS® is a global designer and manufacturer of high-tech stainless steel products, covering a wide array of industrial facilities and providing our clients with complete customer service and support.  

NIEROS® solutions are present worldwide with our representatives in more than 30 countries around the globe.