Seco Tools has expanded Niagara Cutter's Stabilizer product line with the five-flute ST540 end mill designed to increase performance and versatility.
The STS540, STSN540, STR540, STRN540 and STRCS540 solid carbide end mills together are said to provide a complete set of tools for machining processes ranging from slot milling to side mill finishing as well as operations involving up to 40% radial stepovers for fast material removal thanks to strong cutting edges and full eccentric reliefs.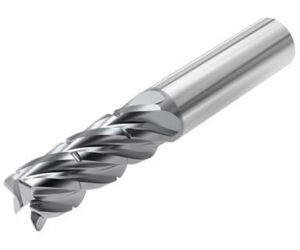 In addition to smaller-diameter tools for high-performance milling and 140 new inch sizes, including a necked version for long-reach applications, the expansion also includes advanced helical chip splitters developed by Niagara Cutter to improve chip evacuation in even the most challenging applications. A special offset design is said to improve surface finish and make the tool an all-in-one end mill solution that can handle both roughing and finishing operations and is effective in materials ranging from steel to cast iron, from stainless steels to superalloys.