Nakamura-Tome Precision Industry, Co. is world renowned Japanese builder of high quality multitasking turning centers, located in Ishikawa, Japan.
The company was founded in 1949 by Tomeo Nakamura with only one turning center and a drilling machine in the factory. In 1974, the company introduced their first NC turning center, followed by the debut of the CNC Integrated Center in 1982. Known for their accuracy, reliability, and ease of operation, Nakamura produces machines for shops and manufacturing plants in a wide range of industries including automotive, medical, aerospace and defense.
Nakamura Tome is the premier multi-tasking turning center manufacturer, offering over 20 twin spindle machine configurations. They have established a firm position as a leader in the machine tool industry. From raw stock to complete parts in one setup, Nakamura-Tome multi-tasking machines can reduce cycle times and eliminate extra operations. Nakamura-Tome machines feature highly original and innovative functions. State-of-the-art Tool-Spindle type and Turret-Type Multitasking Machines help companies meet a wide range of needs, from low-volume, high mix production to mass production. By using advanced, cutting-edge technologies, Nakamura-Tome is determined to earn outstanding customer satisfaction.
Nakamura machines are built to run unattended and can be equipped with Bar Loaders, robots, or Gantries. They are used throughout the world to perform the most difficult turning tasks and have many unique features such as user-friendly icon menu-driven controllers, production monitoring, trouble guidance and operation level control functions, which provide maximum user efficiency.
Turning Centers
Turning Centers are lathes with a computer numerical control (CNC), where the tools move parallel to axis of lathe to remove the diameter of material, can perform a variety of milling and drilling operations.
Multi-Tasking Machines 
Multi-Tasking Machines also known as Turn/Mill, are capable of both rotating-workpiece operations and rotating tool operations such as milling and cross-drilling. Multi-Tasking allows for combining cutting, turning, milling drilling, tapping, and deep-hole boring on the same machine.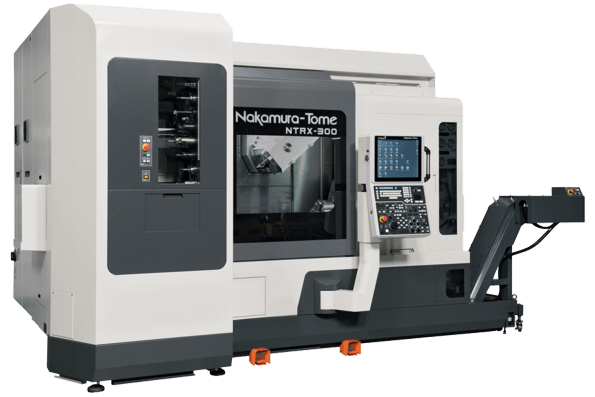 NTRX-300
The latest B-Axis tool spindle machine from Nakamura-Tome. A very heavy-duty machine with full twin spindles and a robust tool spindle. Featuring the new Smart X control from Nakamura. Robust 25 HP tool spindle with 12,000 RPM and full 5-axis capabilities. 10 in stroke for the Y-axis, 80 tool ATC as standard with 40 or 120 as options, Fanuc 31i-B5 5-axis control, unique built-in load/ unload device – built-in automation system. All this in a very compact foot print.
FEATURES & BENEFITS
X and Y axis Travel Ensure a Wide Machining Range. X-axis travel 5 in below spindle center ensures a wider machining range.
Highly Rigid Design. All units are located on the main frame vertically for high rigidity.
Operator Friendly Design. Spindle Center is easy to reach, thanks to 17 in distance from the machine front and 43 in height from the floor.
New Operation Panel with NT Smart X Featuring. Operation Level Management, Camera, Voice Guidance, Production Management and 3D Collision check, all Included as Standard.
Modular Design. Choose from R-spindle Type or Tailstock Type.