ISCAR is the largest member of the IMC Group owned by BERKSHIRE HATHAWAY INC., managed by renowned American investor Warren Buffett, and produces all kinds of cutting tools and hard metal tiles that deliver superior quality.
Iscar's product portfolio includes tools and holders for turning, milling, hole-punching, drilling and threading, and grips for machine tools. Provides engineering and manufacturing solutions to numerous industries worldwide. The largest buyers of Iscar products are aerospace industry, automotive, and many others.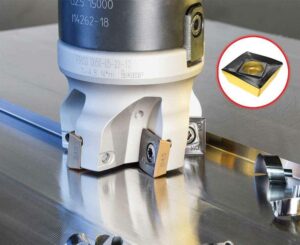 The remarkable progress made in the area of rough milling over the past decades saw the introduction of fast feed milling (FF), also referred to as high feed milling (HFM).
Rather than use the traditional high metal removal technique – milling with considerable depths and widths of cut – users of the new approach continued to machine with similar width of cuts, although they used a much smaller depth of cut and applied much faster speeds with substantially increased feed per tooth.
High feed milling enables much faster machining than conventional methods. Energy saving shallow-cut "fast" technology provides an excellent alternative to power consuming deep-cut methods.
ISCAR's new FFQ4 SOMW… insert features advanced capabilities for increased milling productivity in machining materials up to 60HRC which takes fast feed milling a giant step further.