The MILLTURN will be centre stage for WFL at this year's EMO.
Three demonstration models will be on show at the trade fair from 16 to 21 September: an M30-G MILLTURN / 1800mm with automation cell, an M50-G MILLTURN / 3000mm with a focus on turbine blade machining and an M80X MILLTURN / 3000mm with an integrated diode laser. In addition, the spotlight will also be on pioneering monitoring and recording functions for all machine processes. To complete the package, WFL has developed intelligent tools and integrated sensors for the MILLTURN machines.
Flexible automation solutions
WFL Millturn Technologies and its subsidiary FRAI Robotic Solutions have decades of expertise and offer a variety of automation variations for different requirements to maximise productivity. The comprehensive range of products includes straightforward loading using articulated robots, a wide variety of gripper systems and gantry loaders with peripheral transport and storage systems for workpieces, tools and jaws.
Automation is even becoming increasingly essential to provide productivity benefits in small-series production. In cases where there is a lack of staff for night and weekend shifts, automation can be used to increase machine utilisation and therefore remedy the problem of staff shortages.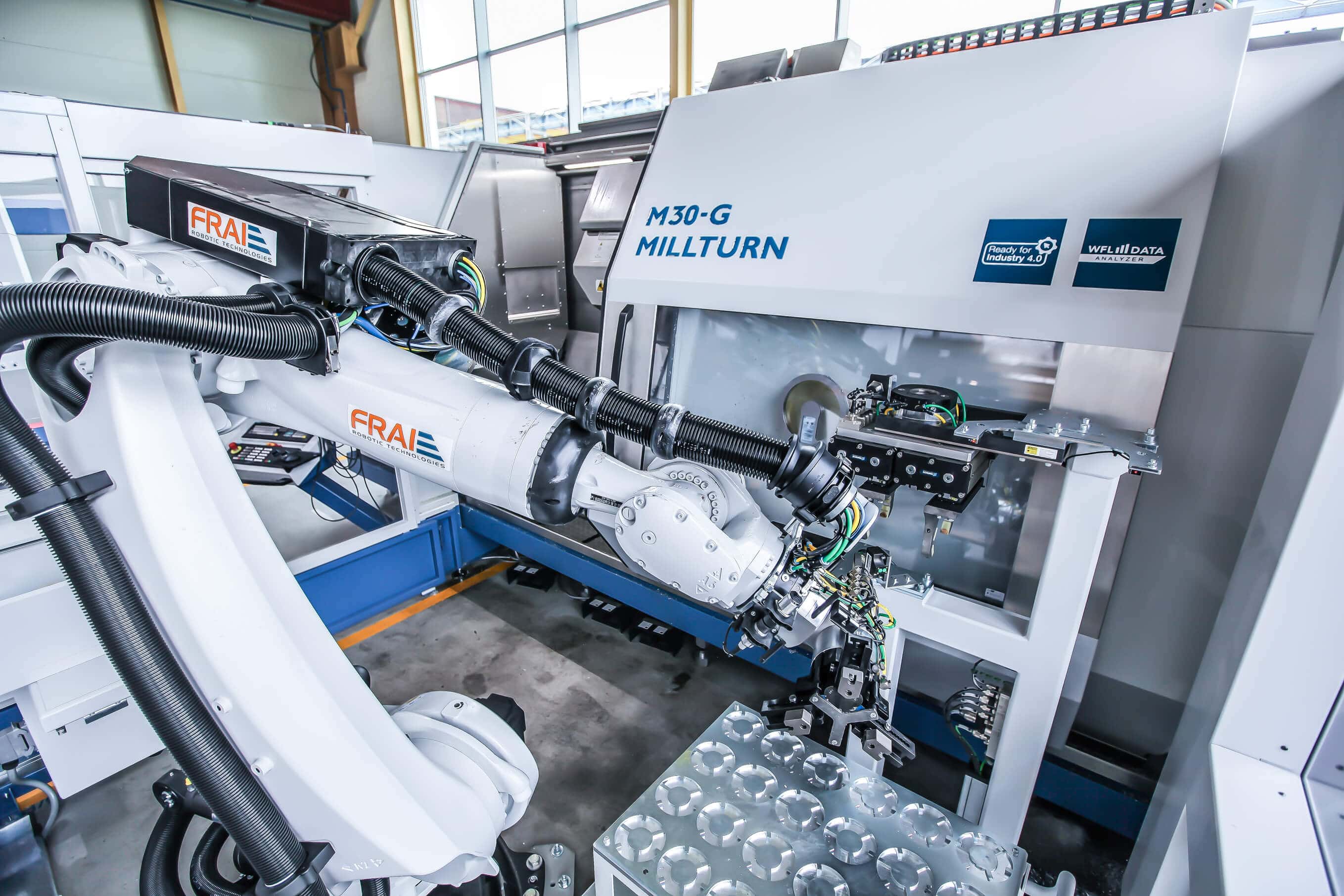 The M30-G MILLTURN / 1800mm is also equipped with a Kuka KR Quantec robot, which has a load bearing capacity of 120 kg and a nominal working radius of 2896 mm. The machine also uses an automatic gripper exchange system with 2 different gripping heads and a workpiece tray for chucks and shaft components. Another further highlight is the integrated visualisation of the cell on the machine display.
Universal machining solutions with the M50-G MILLTURN
WFL will also be presenting a machine with increased power and productivity in the shape of the M50-G MILLTURN. An optionally available centre distance of 6000 mm allow for even more efficient possibilities for machining long shaft components. Maximum machine performance is key. The increased spindle speed and axis acceleration open up new areas of application, such as workpieces where increased dynamics are a requirement, such as the manufacturing of turbine blades.
Outstanding reliability is achieved during the production of turbine blades through consistent cutting forces and a newly developed production strategy with low tool wear. Another notable feature is the use of Ultra-High Pressure Coolant (UHPC), which allows coolant pressures of 150 to 350 bar to be achieved. This leads to significant optimisation of chip breakage, reduced machining times and drastically lower costs.
In practice, this means cost savings of up to 50%. No additional interfaces are required for up to 200 bar as coolant is supplied directly through the milling spindle as standard. This feature not only makes it possible to reliably and productively machine stainless materials, it also makes it possible to machine high-alloy steels and super alloys.
Additive manufacturing with MILLTURN       
The benefits of additive manufacturing in a MILLTURN are particularly evident in the production of complex geometries, which cannot be produced or are at least very difficult to produce using conventional manufacturing processes. It is possible to create new product properties, for example through the use of non-wearing layers, as specific materials can be flexibly applied during the machining process.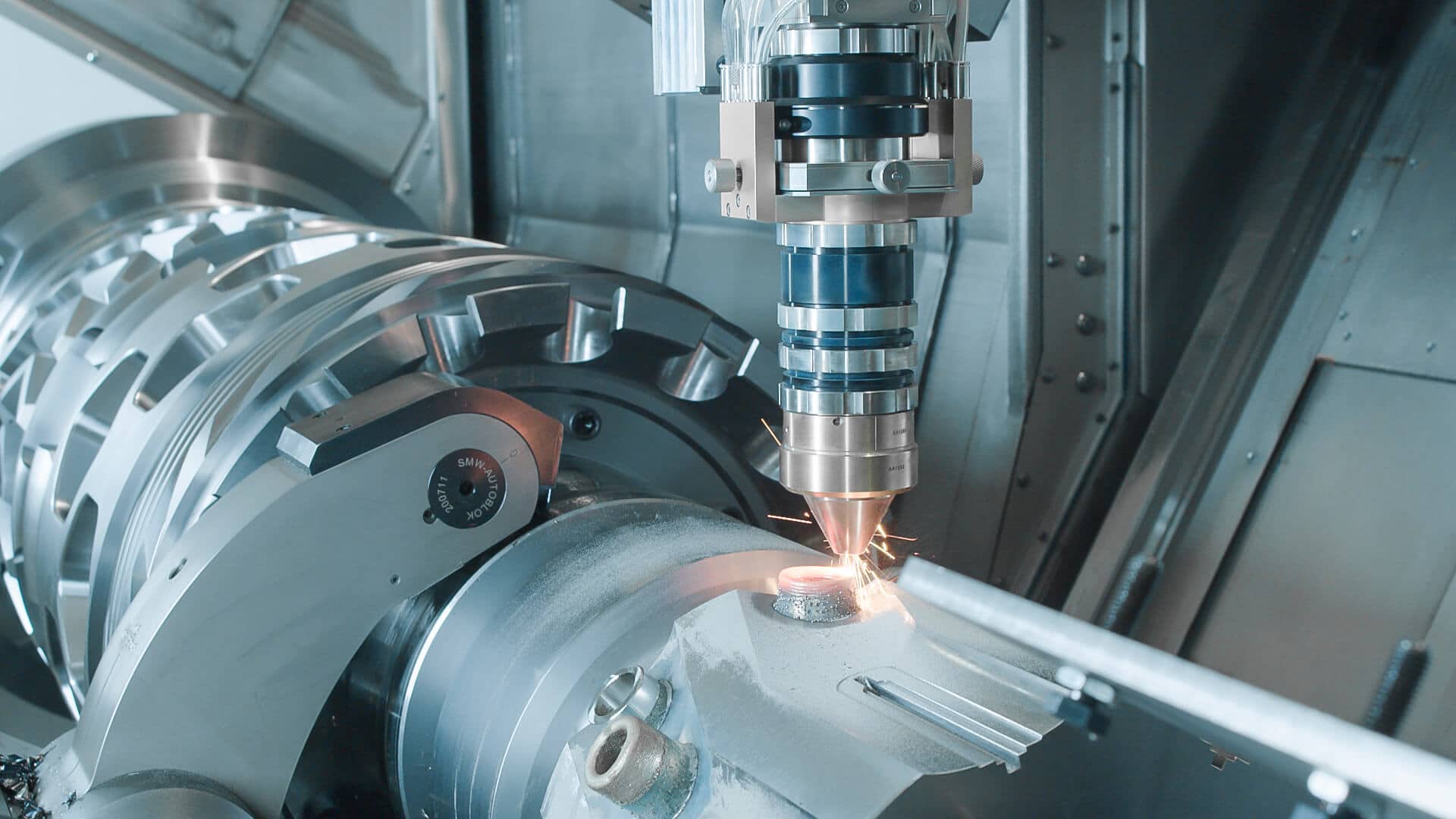 The cladding laser head can also be directly used for laser hardening or it can optionally be switched out for a lens that has been optimised for the hardening process. In this way, when manufacturing gear teeth for example, the tooth flanks can be immediately hardened after milling. The laser option is available for the majority of MILLTURN models.