Based on the workhorse VMXi series, Hurco's VMXDi series of machining centers features a direct-drive spindle.
The VMX24Di has X-, Y- and Z-axis travels measuring 24″, 20″ and 24″, respectively; the travels of the VMX30Di measure 30″, 20″ and 24″; and the VMX42Di's travels measure 42″, 24″ and 24″.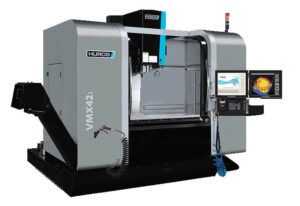 The VMXi series is designed for high performance in batch production or die/mold work. With its direct-drive spindle, the VMXDi series is said to provide a better surface finish, quieter spindle and less head growth. It includes a 15,000-rpm spindle, improved chip-to-chip time, and faster spindle acceleration and deceleration (0 to 15,000 rpm in 3.2 sec. and 15,000 to 0 rpm in 2.4 sec.). 
The VMX42Di is equipped with the Hurco control powered by WinMax software and the UltiMotion motion system. The control is said to aid productivity and profitability by supporting various programming methods: conversational programming, NC programming and a Hurco-specific feature called NC/Conversational Merge designed to optimize efficiency. Additionally, the control's technical specifications include 4 GB RAM, a 128-GB solid-state drive and 10,000-block lookahead.