More and more European industrial companies are bringing production they previously offshored closer to home. Central and Eastern Europe are particularly emerging as the new favourite for production locations.
Outsourcing activities to low-wage countries in Asia has been one of the
biggest trends in the past three decades. By farming out elements of
production to countries like China and Bangladesh or aspects of customer
service and software engineering to countries like India, companies reduced
costs while revenues boomed.
Leveraging outsourcing, companies have been able realise a competitive
advantage over competitors who retained work in more expensive labour
markets.
It is not a policy without some controversy, though. Offshoring to take
advantage of low-wages often saw companies take advantage of labour in
countries which suppressed organised labour, and where human rights
legislation was rarely applied – if it existed at all.
Decades of criticism from ethical consumers has come to a head in recent
years – with more than one-third of customers in the UK alone now willing
to spend more to ensure their products are environmentally and socially
responsible.
At the same time, the coronavirus crisis has exposed the brittle
aspects of many international business ecosystems. With many companies
having endured a tough 2021, and seen their pandemic recovery slowed by
scarcity of resources due to issues in their supply chain, as ethical criticism
continues to mount, executives have started to look differently at the design
of their supply chains.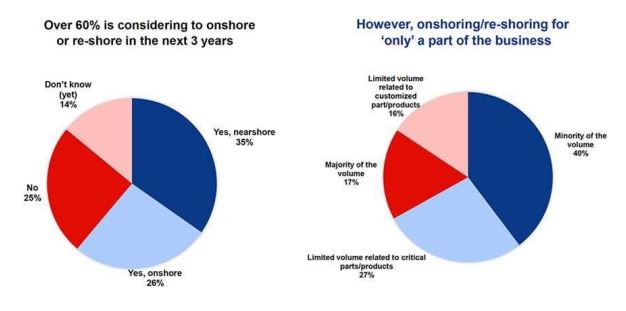 The Global Reshoring & Footprint Strategy report shows that more than 60% of supply chain executives expect to return some of their Asian production to Europe and the US.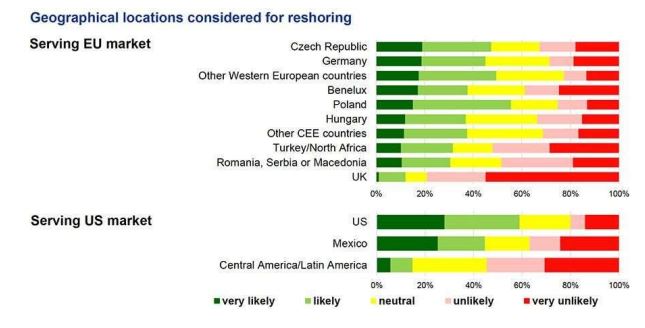 Companies from Europe are mainly looking at Central and Eastern Europe as
possible production destinations. These nearshore destinations currently
have higher labour costs, but in the shadow of the pandemic, Haex believes
manoeuvrability and flexibility have become more important than low
labour costs.
Easier said than done
A survey was conducted among industrial companies. These include parties
in mechanical engineering, the automotive industry, consumer products
and pharmaceutical production. However, it is important for these
companies not to get ahead of themselves.
On top of geo-political tensions causing problems across Eastern Europe,
dismantling all production in any country is not an easy thing to do.
Companies often have to deal with long-term contracts for housing,
production assets, the supply of materials and personnel, among other things
– which will make a swift exit impossible. In addition, there are several
barriers that need to be overcome if they are to re-integrate themselves into
the business ecosystem of Europe.
"High operational costs in Europe and the US due to limited scale and the
absence of large and broad supplier networks are the main barriers. We see this
every day in our consultancy practice. A decision to reshoring is really drastic for
a company and requires careful consideration."