Responding to the need for higher productivity and efficiency in crankshaft machining, Boehringer, a member of FFG, introduces its VDF 221/226 CET. 
The core components of this six-axis machining center include the two crown turrets, each with eight tool interfaces. Each turret operats as a three-axis unit at the either end of the stationary workpiece clamped in between them. Alternatively, single- and multi-spindle heads in special designs can be flanged to the carrier units for specific applications. 
The machine can apply minimal lubrication technology or perform wet machining. Various HSK toolholders are available. The direct-drive spindles provides a maximum speed of 15,000 rpm.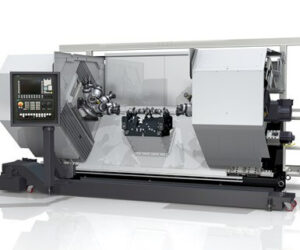 Machining is supported by a stable portal slide (gantry carriage) in the Z direction, on which the cross slide positions the turret dynamically in the X and Y directions. Even with the VDF 221 CET's compact design, it can accommodate workpieces with a maximum length of 650 mm and weighing up to 280 kg. The longer VDF 226 CET accommodates shafts ranging in length to 3,000 mm and weighing up to 1,400 kg. The machine can be loaded manually with a lifting device, automatically from the front by a robot, or from the top by a loading gantry.