Horn has expanded its DTM lightweight milling system to include two new versions.
Among the exhibits at Hartmetall-Werkzeugfabrik Paul Horn's booth at Moulding Expo will be its two new versions of Horn's DTM lightweight milling system.
The new DTM.CX09 arbour milling cutters have been designed as roughing tools. In machining applications that require high-cutting depths with lesser demand on surface quality, these are cost-effective alternatives to new finishing versions of this tool type.
The DTM.CX09.AL.F face milling cutter for finishing, adds an adjustable body to the existing product range. It has a user-friendly insert adjustment system and the axial run-out can be adjusted to the exact µm using a presetter.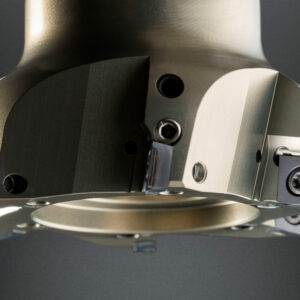 According to Horn, the aluminium body of the tool holders has a low mass, resulting in reduced energy consumption during acceleration and deceleration. Weighing less than a steel milling cutter, it provides faster spindle speed changes and thus dynamic machining. Furthermore, the cutter body features a protective hard coating to prevent wear caused by chip impact. The inserts are available from stock in several diamond materials and a variety of geometries. This allows for a cost-effective alternative to soldered face milling systems because the chip breaker geometries reduce the chip volume, while increasing process reliability, Horn says.
The cutter bodies are available as arbour milling cutters with diameters between 40 mm and 125 mm. The number of teeth ranges from four to eight effective cutting edges. All body versions feature an internal coolant supply. The system is used for high-speed milling of up to a cutting speed of vc = 5,000 mm/min. The tool system's lightweight aluminium body protects the spindle at high speeds. Diamond inserts are available as PCD and CVD-D. The PCD grade PD75 is an all-rounder for aluminium machining applications, while PD70 is suited for alloys with a high silicon content. The substrate HD08 (CVD-D) is used for highly abrasive materials. CVD-D consists of 99.9% diamond and offers maximum wear resistance.
At Moulding Expo 2019, Paul Horn will be in Hall 9, Booth B52.