The Gardner Business Index (GBI): Metalworking registered 48.3, marking a modest improvement after July's reading – the lowest in more than two years. Index readings above 50 indicate expanding activity while values below 50 indicate contracting activity.
The further away a reading is from 50, the greater the change. Gardner Intelligence's review of the underlying index components observed that the Index –calculated as an average of its components – was supported by supplier deliveries, production and new orders. In contrast, contracting employment, exports and backlog activity suppressed the Index from moving higher.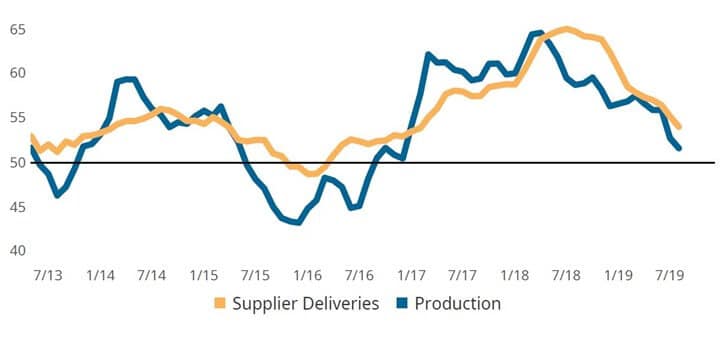 Total New Orders Contract Faster Than Exports: 
Supplier deliveries and production activity were the top components of the Metalworking Business Index in August. The expansion in production activity during August was the most encouraging news in the survey's latest results.
August's data reported month-over-month improvements in production, new orders and backlogs. Production activity expanded while new orders activity contracted at a slower pace than in the prior month. The net effect of these changes was a small deceleration in the contraction of backlogs.
Recent months of data have indicated an atypical spread between the readings for new orders and production with production activity being several points higher. These relatively higher levels of production have been achievable though the depletion of backlogs. According to metalworking survey respondents, between April 2019 and the time this column went to press, backlogs had reported accelerating contraction.