SHANGHAI—The $150 million "factory of the future" that the Swiss innovator ABB announced nearly a year ago is becoming reality in this enormous city's Pudong New Area.
"We just took the first shovels and dug a hole here for a new factory," Michael Larsson, group VP and global head of automotive manufacturing solutions for ABB Robotics, said today at Dassault Systèmes' Manufacturing in the Age of Experience event.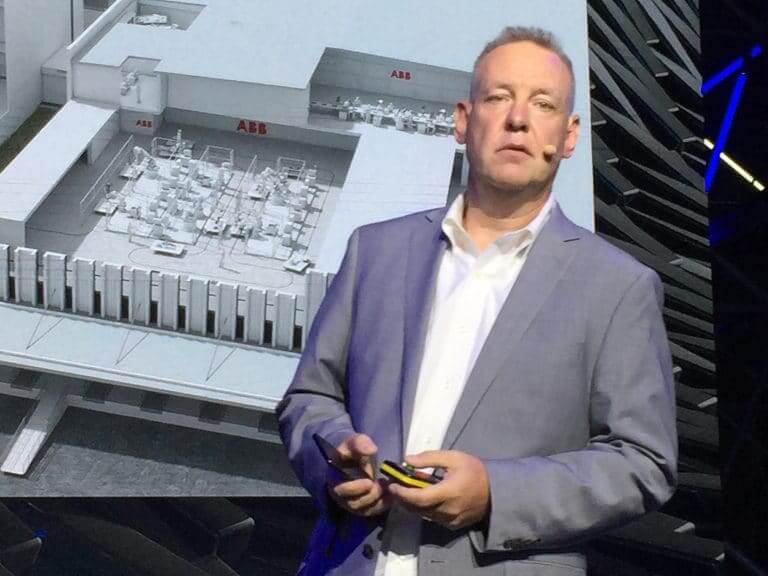 To emphasize a break from the past in factory design, he showed a video of two ballet dancers effortlessly consorting with two ABB collaborative robots (cobots).
Why am I showing this video? When we develop technology, it needs to enhance our collaboration in the industry," Larsson said. "We want to make sure the technology is safe … and to increase the quality of work. It is all part of our sustainability effort."
The theme of the first day of Dassault Systèmes' two-day event is sustainable manufacturing. And Larsson took pains in his keynote address on automotive manufacturing to point out that coming generations are demonstrating the sort of interest in sustainability issues—such as car sharing and autonomous vehicles—that cannot be ignored.
Cobots in the 67,000 square-meter manufacturing and research facility will build other cobots. The manufacturing center builds on the $2.4 billion ABB has invested since 1992 in China. The French software giant Dassault Systèmes is a partner in the project.
China Daily reported last week that the facility is expected to open in 2021, with a plan to make 100,000 industrial robots each year.
The new Shanghai factory will feature machine learning, digital and collaborative solutions to make it "the most advanced, automated and flexible factory in the robotics industry, and an onsite R&D center will help accelerate innovations in artificial intelligence," ABB said last year in prepared remarks.
The factory will be able to "dramatically increase both the breadth (type of robots) and depth (variants of each type) of robots that can be made onsite, allowing greater and faster customization to meet the needs of customers."
ABB will also be able to combine this expanded portfolio of robotics into many tailored solutions, it said. "The concept behind this factory is the same advice we give our customers every day: invest in automation solutions that provide flexibility and agility to grow in whichever direction the market goes," Sami Atiya, president of ABB's robotics and motion unit, had said in prepared remarks, noting that part of the motivation for building the factory is to "meet the challenges of mass customization, faster cycles and constant change which have become the new normal—even in our own factories."
For automakers to stay in business, flexibility and collaboration—between humans and robots and various corporate players—is going to be paramount, Larsson said.
Manufacturing processes of the past "very much separated" machines from humans, but now it is safe for people to walk through plants where cobots are no longer caged, he said. When that happens, their motion is automatically detected and the cobots adjust. "There's no need for the fence anymore," in part because of ABB's SafeMove2 software.
The new factory will have a flexible floorplan based on interlinked islands of automation instead of fixed assembly lines. ABB will make use of its logistics automation solutions, such as automatic guided vehicles (AGVs). They can autonomously follow robots as they move through production, supplying them with parts.
"This will allow production to adapt and scale efficiently to changes in China's robot market without additional capacity expansions," ABB said last year in prepared remarks.
Automated cells like those that will be in the new factory here give manufacturers the chance to scale with ease, Larsson said.
The cloud-based maintenance services enabled by digitization will help manufacturers avoid unscheduled maintenance, he added.
"Last but not least," Larsson said, the digital twin is needed to "put all of this together." He listed the attributes of the digital twin, including providing "a comprehensive digital image of the physical equipment," simulating the behavior of the physical object, and allowing the "consistent collection and distribution of information across the physical asset's complete lifecycle."
"Now," he added, "we have an opportunity to have dynamic information from all of the different processes, giving us the ability to make decisions in real time."