The Holzfraese CNC is the world's first heavy-duty wooden CNC router for professional users.
Holzfraese says its router is an automated solution that can realize just about any custom project – requiring no marker pencils, rulers, or T-squares. It can also handle a variety of clamping systems, including vacuum clamping.
The machine is made from Koskisen plywood and polymer concrete – and innovative German engineering, of course.
"You won't find another materials combination that is comparable in terms of backlash dynamics, dimensional accuracty at different temperatures, or noise reduction and torsion compensation," says Burkhard Bessler, the man behind the machine.

Source: cnc-holzfraese.de
Bessler saw the need for a machine for small shop owners nervous about getting into CNC. Holzfraese requires minimal setup time, offers a good price-performance ratio, and produces few emissions. Bessler says its ideal for woodworking operations specializing in small-series production, engraving, and any other application requiring a high-degree of customization and precision, like scale models, housings, instrument building and molds.
Two models are offered: A compact model focuses on versality, featuring automation for contour and prefabricated component milling. A speed model is suited for nesting, featuring a "single-mill principle" and focusing on extremely high speed, material optimization, and very low emissions. The speed model is "virtually maintenance-free", says Holzfraese.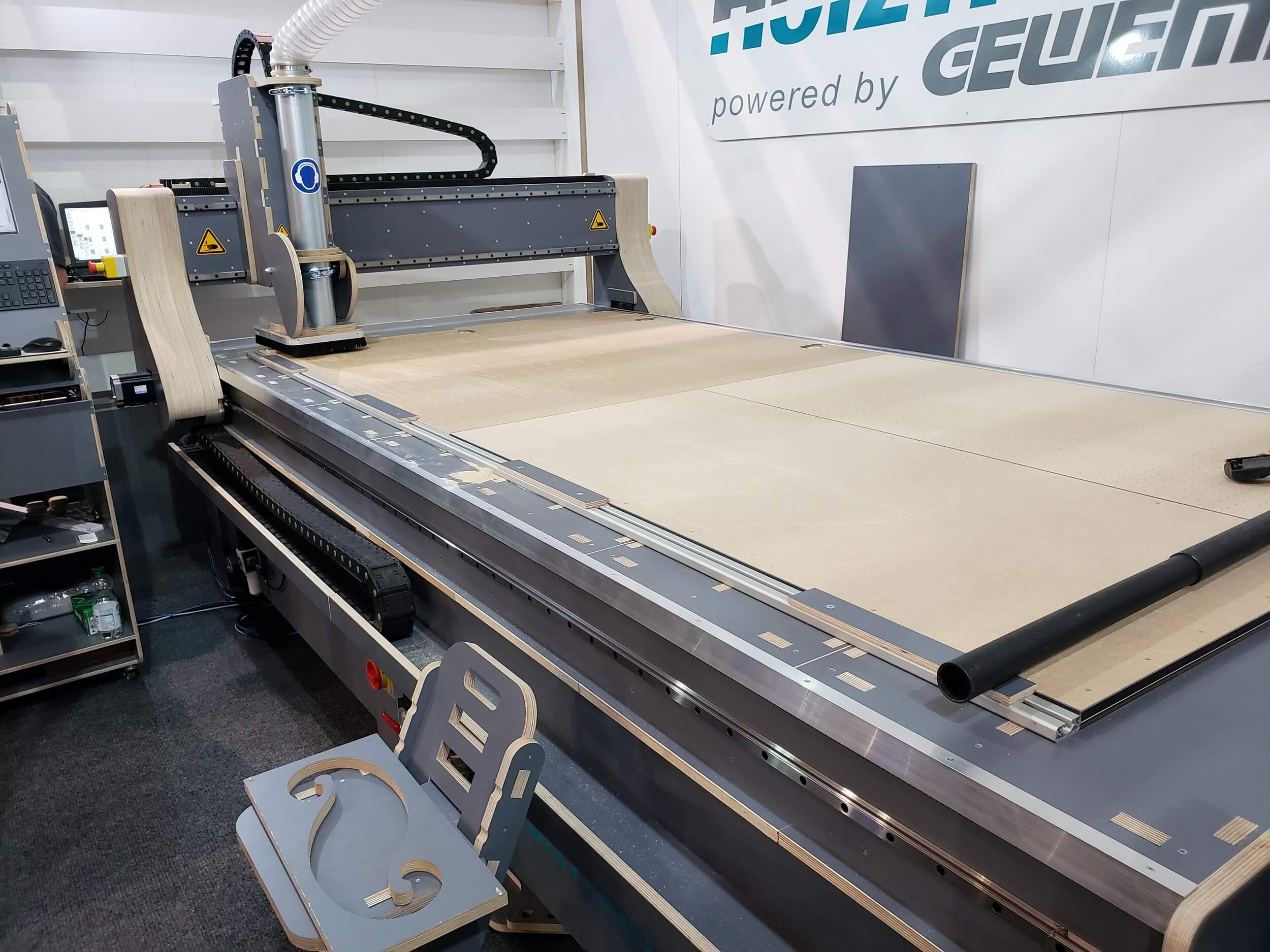 Another benefit to the Holzfraese are its vacuum pads, says the company. Most are typically designed to use protruding vacuum pads or multi-hole plates. A risk to this is that workpieces can buckle.
"Our vacuum table has several vacuum pads, which are placed flush in the milling bed. Thus, our system ensures precision from the first to the last workpiece."
The Holzfraese is currently on display at Ligna, the world's largest woodworking show, where it has attracted crowds each day. Stretched across more than 1.4 million net square feet, and featuring displays by more than 1,500 companies, the biennial LIGNA runs through May 31 at the Fairgrounds in Hannover, Germany.